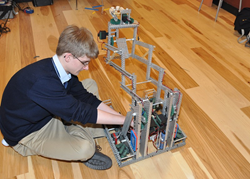 Conshohocken, PA (PRWEB) February 12, 2015
Joe Glavin, a Philadelphia Floor Store founding member, recently donated hardwood flooring to his alma mater the Haverford School a leading college preparatory institution located in Haverford, PA.
On a recent tour of the school, Glavin observed the Robotics Club working away in the hallway and had this to say, I was amazed at the complexity of the projects and the diligence of the students participating. It was at this point that Glavin pledged to help design a permanent space for the club.
While the school had designated a new dedicated area for the Robotics Club, the space provided several unique technical challenges. The flooring material needed to be strong because robots are hard on surfaces, it had to work in an environment below grade level, and it also had to be light in color to allow the boys to find small parts and accessories lost during robot assembly. With that in mind, Glavin chose to donate engineered hickory flooring, as it solved the above mentioned challenges and fit the aesthetics of the LEED Gold-certified building.
According to Gino Tagaytay, Haverford School Robotics Director, We have about 60 boys spending up to 15 hours a week building robots. With the new dedicated robotics room, we spend less time setting up and cleaning, and more time experimenting and designing. The new space underscores our teams commitment to teamwork, perseverance, and creativity.
Education has always been important to my family and I hope this space provides the boys and instructors decades of use and enjoyment, said Glavin.
About PFS

PFS is a leading provider of unfinished and prefinished hardwood flooring and accessories including stains, finishes, abrasives, flooring tools, and sanding equipment. Family owned and operated, PFS has been serving hardwood flooring contractors for more than 20 years and provides the expertise needed to install and maintain hardwood floors. The company offers all the top name manufactures including, Aacer, Century, Norton, Lagler, 3M, Clarke, Bona, Basic, Primatech, Bostick, and more. The companys in-house resources include a top-ranked Machine Repair Center, Rental Center, In-house Chemist, and Gym Floor and Wood Floor Consultants. PFS educates customers via personalized service, online training materials, videos, and free events. Visit the PFS showroom in Conshohocken, PA or shop online at phillyfloor.com.
For product information and training videos, visit the companys You Tube channel or Blog. Visit Philly Floor on Facebook or follow the company on Twitter at @PhillyFloor. For media inquiries, contact Caran Baxter at caran.baxter@phillyfloor.com or call 610-940-5757.