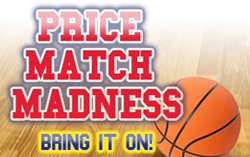 Conshohocken, PA (PRWEB) March 12, 2014
The Philadelphia Floor Store, the nations leading hardwood flooring distributor, is once again getting in on the hoops frenzy by kicking off 31 days of savings to coincide with the NCAA Basketball Tournament. The companys Price Match Madness promotion runs through March 31, 2014 and includes the strongest price match guarantee in the hardwood flooring industry. PFS will match any competitors price on any comparable hardwood flooring products or services no quote is necessary.
Last years promotion was such a rousing success that we decided to run it again this year, said Mike Glavin, founder of PFS. Whether its unfinished hardwood or pre-finished hardwood flooring, flooring abrasives, flooring adhesives, sanding machines, gym floor products, or hardwood flooring accessories, we want to be in the conversation as it pertains to price and we want our customers to know that they can always come to us, continued Glavin. More information regarding the companys price match guarantee can be found on phillyfloor.com.
About Philadelphia Floor Store (PFS)

PFS is a leading provider of unfinished and prefinished hardwood flooring and accessories including stains, finishes, abrasives, flooring tools, and sanding equipment.
Family owned and operated, PFS has been serving hardwood flooring contractors for more than 20 years and provides the expertise needed to install and maintain hardwood floors. The company offers all the top name manufactures including, Aacer, Century, Norton, Lagler, 3M, Clarke, Bona, Basic, Primatech, Bostick, and more. The companys in-house resources include a top-ranked Machine Repair Center, Rental Center, In-house Chemist, and Gym Floor and Wood Floor Consultants. PFS educates customers via personalized service, online training materials, videos and free events. Contractors can visit the PFS showroom in Conshohocken, PA or shop online at phillyfloor.com.
You can follow the company on Twitter at @PhillyFloor. For product information and training videos, visit the companys YouTube channel or Blog. For media inquiries, contact Caran Baxter at caran(dot)baxter(at)phillyfloor(dot)com or call 610-940-5757.