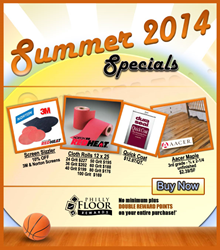 Conshohocken, PA (PRWEB) July 16, 2014
The Philadelphia Floor Store (PFS), the nations leading hardwood flooring distributor, has announced that they will offer quarterly promotional discounts to contractors. These seasonal specials will offer substantial savings on a variety of hardwood flooring and materials. Additionally, the flooring distributor will tie in their customer loyalty program Philly Floor Rewards by offering bonus reward points on each purchase.
We tested this over the last several months, and weve found these seasonal promotions to be beneficial to both PFS and our customers, said Mike Glavin, owner and founder of PFS. Every quarter the flooring distributor will offer a variety of flooring products from unfinished hardwood and pre-finished hardwood flooring to flooring abrasives, flooring adhesives, sanding machines, gym floor products, and hardwood flooring accessories.
By offering these discounts over the course of a season, our contractors have the ability to stock-up or just order as needed. They dont have to worry that if they dont buy now they might lose out, as the sale prices are good for several months. This way, our contractors can also get a feel for what they might use in a three month period and then stock-up towards the end of the promotion in preparation for the rest of the year, Glavin continued.
Highlights from Philadelphia Floor Stores Summer 2014 Savings Event include Aacer Hardwood Flooring, Dura Seal Finish, and Norton Red Heat products. More information regarding the companys current seasonal promotion can be found on phillyfloor.com.
About PFS

PFS is a leading provider of unfinished and prefinished hardwood flooring and accessories including stains, finishes, abrasives, flooring tools, and sanding equipment. Family owned and operated, PFS has been serving hardwood flooring contractors for more than 20 years and provides the expertise needed to install and maintain hardwood floors. The company offers all the top name manufactures including, Aacer, Century, Norton, Lagler, 3M, Clarke, Bona, Basic, Primatech, Bostick, and more. The companys in-house resources include a top-ranked Machine Repair Center, Rental Center, In-house Chemist, and Gym Floor and Wood Floor Consultants. PFS educates customers via personalized service, online training materials, videos, and free events. Visit the PFS showroom in Conshohocken, PA or shop online at phillyfloor.com.
For product information and training videos, visit the companys YouTube channel or Blog. Visit Philly Floor on Facebook or follow the company on Twitter at @PhillyFloor. For media inquiries, contact Caran Baxter at caran.baxter(at)phillyfloor(dot)com or call 610-940-5757.