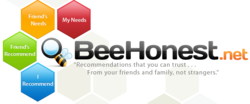 Philadelphia, PA (PRWEB) February 29, 2012
Today, review sites litter the Internet with millions of questionable reviews. Users dont know whose opinions to trust. Jennifer along with her friend Annette Eddowes, also a mom and co-founder, believe there should be a social networking and recommendation database, providing recommendations from people you already trust, your friends and family. Recommendation examples can be almost anything and typically span a wide variety of topics that people need in their lives, such as home services, childrens activities, business, travel, restaurants, and education. The idea – friends and family help each other by capturing traditional word of mouth recommendations into an easy to use web site that promotes sharing and finding information on exceptional products and services people can benefit from in their lives.
In 2010, Jennifer envisioned changing how people relied on recommendations on the Internet. BeeHonest.net now has a 6-person team who has worked hard over the last 18 months building and improving the site. Jennifer Dee says, I am thrilled with the hard work of the BeeHonest.net team and especially the partnership with the University of Pennsylvania SBDC in preparation for our March 2012 launch in Philadelphia.
Entering the SBDC program and quickly tapping into the resources, creative minds and strategic thinking of the students has really accelerated launch and marketing plans for the new startup. Annette Eddowes, says, The students helped the BeeHonest.net team refine, target and deliver our message for moving users away from unreliable anonymous reviews to recommendations you can actually trust.
Jennifer and Annette believe the SBDC is an invaluable resource for entrepreneurs and small business owners in the Philadelphia. Jennifer says, To be innovative, you need smart people around you to pull it off. Programs with talented people like the SBDC are helpful to turn innovative ideas into reality. One of my first recommendations on BeeHonest.net is the SBDC.
###