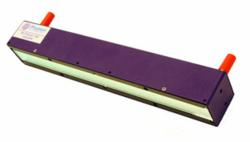 Hillsboro, OR (PRWEB) June 16, 2011
RadTech Asia in Yokohama, Japan will see the continuing evolution of UV LED technology from Phoseon for UV LED curing solutions. The Phoseon Technology exhibit (booth 25/26) will highlight a large range of air cooled and water cooled UV LED systems designed to be capable of curing in a wide range of UV applications.
While bringing the three-tiered benefits of UV LED curing (high-quality, environmentally friendly, and lower total cost of ownership), Phoseons products add additional capability with high performance, maximum UV energy, and outstanding reliability for customers tough curing environments.
Phoseon products continue to have significant market success in Japan, commented Francois Vlach, President of InSense Technology who represents Phoseon in the Japanese market. The strong portfolio of UV LED solutions, as well as a history of successful implementation both in Japan and worldwide, help to bring credibility to the Phoseon brand in the Japanese market.
The RadTech Asia 2011 conference will focus on the current market trend of UV/EB processing at home and abroad and on its technical issues. It will offer an opportunity to exchange information to create new seeds of the future science, technology and industry. It will also include discussions on various topics such as the development of recyclable and biodegradable materials, energy-saving processes, and high-performance exposure equipment as environment-friendly technologies, measurement devices, and technologies as the basis of the nanotech industry and high-efficiency nano-materials.
About Phoseon Technology

Phoseon Technology is a world leader in providing UV LED solutions for commercial and industrial applications. Phoseons products deliver maximum UV energy, high performance, and real-world reliability for UV LED curing of inks, coatings and adhesives. The Company provides worldwide sales and support capabilities and can be reached at http://www.phoseon.com.
###