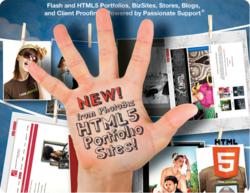 Greensboro, NC (PRWEB) December 04, 2012
PhotoBiz now has HTML5 Portfolio Sites. They are innovative beyond measure, and exactly what creative professionals need to take their businesses to the next level.
HTML5 is a powerful language with lots of capabilities that previously required FLASH, said Jennifer Roeder, PhotoBiz Marketing Manager. Our HTML5 Portfolio Sites are built on a new advanced control panel that opens up doors for even more enhancements in the future.
As with any PhotoBiz product they are remarkably simple to use and there are endless possibilities for personalization. They come fully loaded with: