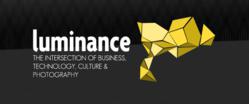 New York, New York (PRWEB) September 11, 2012
What:

PhotoShelter, the leader in photography portfolio websites, sales, marketing and archiving tools for photographers, kicks off Luminance 2012 this week, September 12- 13 at the BMCC Tribeca Performing Arts Center in New York City. The two-day conference will bring together 26 major thought leaders to discuss whats next for photography.
A first-of-its-kind event, Luminance strives to spark new ideas and networks that will push photography, as an industry, to the next level. Over 400 photographers, technologists, designers and creatives are expected to attend.
PhotoShelter welcomes walk-in registrations at the door on Wednesday, September 12, 2012.
Who:

Luminance speakers include 26 leaders from NASA, Facebook, Google, Lytro, Behance, Blurb, 20×200, plus award winning photographers like David Burnett, Peter Yang and Barbara Davidson. The full list of speakers includes:
Jen Bekman, CEO & Founder, 20×200

Scott Belsky, CEO & Founder, Behance

Leila Boujnane, CEO, TinEye

Lucas Buick, CEO & Founder, Hipstamatic

David Burnett, Photojournalist

Chris Chabot, Manager of Developer Relations, Google+, Google

Eric Cheng, Director of Photography, Lytro

Kevin Connor, CEO & Co-Founder, Fourandsix

Barbara Davidson, 2011 Pulitzer Prize Winner, Feature Photography

Jos