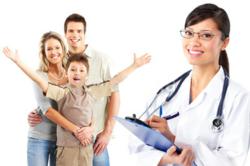 Denville, NJ (PRWEB) December 29, 2012
The healthcare system in the U.S. is the best in the world, but a lack of insurance or patient records creates unnecessary delays in treatment, said Chhoda. An EMR speeds up the entire client-clinic experience, from treating the patient to obtaining reimbursements for services.
EMR information technology provides clinicians with a highly detailed patient record thats updated instantly and can be accessed by a wide range of medical professionals. Therapists can see at a glance what medications, surgeries and procedures have been employed. Critical treatments can begin sooner and everyone realizes significant savings by eliminating redundant diagnostic tests.
The Affordable Health Care Act opened the door for a wealth of new patients to seek physical therapy services that previously had no coverage. Many of those patients are insured through Medicaid, Medicare and similar programs that dont pay as well as traditional insurance plans. EMRs contain the tools to help clinicians determine the best paying providers to help offset lower payments by government programs, while still providing a superior level of patient care to the greatest number of clients.
One of the biggest problems facing any practice is cash flow and EMRs expedite reimbursement claims. Chhoda noted that EMRs offer the most efficient coding options and almost instantaneous billing submissions. The systems are so efficient that billing claims are often ready to be sent by the time a client leaves the office and they almost eliminate rejections. Billing can be done individually or as a batch, with payments deposited directly into the practices account to facilitate a constant cash flow.
Todays EMRs are the first generation of integrated electronic office systems that address the entire realm of a clinics needs, while adapting to the changing healthcare landscape created by the Affordable Health Care Act. Chhodas new information for clinicians will assist them in reducing costs, creating better cash flow and providing vital services to a growing clientele.
Chhodas office can be reached by phone at 201-535-4475. For more information, visit the website at http://www.emrnews.com.
ABOUT NITIN CHHODA

Nitin Chhoda PT, DPT is a licensed physical therapist, a certified strength and conditioning specialist and an entrepreneur. He is the author of "Physical Therapy Marketing For The New Economy" and Marketing for Physical Therapy Clinics and is a prolific speaker, writer and creator of products and systems to streamline medical billing and coding, electronic medical records, health care practice management and marketing to increase referrals. He has been featured in numerous industry magazines, major radio and broadcast media, and is the founder of Referral Ignition training systems and the annual Private Practice Summit. Chhoda speaks extensively throughout the U.S., Canada and Asia. He is also the creator of the Therapy Newsletter and Clinical Contact, both web-based services to help private practices improve communication with patients, delivery better quality of care and boost patient retention.