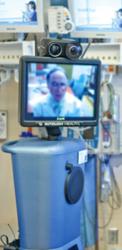 Santa Rosa, CA (PRWEB) December 24, 2012
Robotic telemedicine at HDH significantly enhances the quality of care by enabling intensive care specialists to access HDHs ICU through a remote presence monitor and to analyze patient conditions. As the first hospital in California to implement robotic telemedicine to save more lives and improve patient care, HDH has been able to lower costs for both patients and the hospital while still producing great patient results. James F. Gude, MD, provides the guidance and vision to the Telemedicine Program at HDH. Founded in 2007, Dr. Gudes company OffSiteCare specializes in delivering high-acuity medical care telemedicine solutions to rural hospitals throughout California. With telemedicine, OffSiteCare brings affordable, expert specialist consultations and services from anywhere in the world to hospitals in rural areas. HDH is proud to continue its tradition of excellence in serving patients healthcare needs in the most efficient and effective way possible.
The HDH Telemedicine Program is designed to deliver comprehensive virtual intensivist coverage. Telemedicine is FDA approved as an effective solution for delivering quality healthcare coverage during both nighttime and daytime shifts. The proven techniques developed by OffSiteCare are used to support this program. Instead of being limited to "stabilize-and-ship" patients to another hospital, telemedicine solutions at the Patricia and Raymond Chambers ICU enable HDH to safely keep and successfully treat many critical care patients. As the acuity of care increases, patients with more complicated injuries and illnesses can remain at their local facility.
24/7 access to the expert consultation gives HDH medical and nursing staff the support they need to safely treat critically-ill patients onsite, and urgent treatment is drastically sped up since the specialists do not need to be physically present to provide care. Specialists on OffSiteCare teams are personally chosen by Dr. Gude to ensure that the best care will be available whenever and wherever it is needed. Dr. Gudes telemedicine solutions enable HDH to provide expert treatment while keeping patients close to home, reducing the overall cost of care without reducing the quality.
Teaming up onsite medical staff with experienced OffSiteCare specialists via telemedicine empowers HDH to fully utilize specialist knowledge and to bring the best possible medical services to the community. Since weve implemented the Telemedicine Program at HDH in 2008, patients and families in the Healdsburg and its surrounding communities have received thousands of consultations from OffSiteCare teams, explains Dr. Gude. Thanks to robotic remote technology, patients at HDHs ICU can expect quality specialist and intensivist care with their family and friends nearby.
Evan Rayner, CEO at HDH, credits Dr. Gude with revitalizing HDHs ICU. HDH was the first critical-care access hospital in the state to make use of advanced remote technology to provide better healthcare. Robotic telemedicine has significantly enhanced the quality and capability of service that HDH provides to its patients. Dr. Gude is a pioneer in the use of telecommunications to improve the quality of healthcare in rural areas and all of us at HDH are proud to have him on staff. His innovative drive fits perfectly with HDHs mission to provide the latest medical treatments close to home.
Dr. Gude attended medical school at Yale, completed his residency at Stanford University Medical Center, and then served two years as a submarine doctor with the Navy. Dr. Gudes professional credentials include his 35-year tenure as ICU Director and Director of Critical Care at Sutter Medical Center of Santa Rosa, Clinical Professor of Medicine at University of California San Francisco, and an esteemed faculty member of the Family Medicine Residency Program at Sutter Santa Rosa. Amongst the dozens of multidisciplinary specialists available for consultation via telemedicine are HDH physicians Allan Bernstein, Neurology, Peter N. Bretan, Jr., Urology, and Gary LeKander, Intensivist.
Healdsburg District Hospital serves as the first-line inpatient, outpatient, and emergency care facility for the 60,000 residents of Windsor, Healdsburg, Geyserville, Cloverdale and the surrounding areas of northern Sonoma County, California. With Centers of Excellence offering innovative services in wound care, neurology, pulmonary medicine, occupational health, specialty stroke care, geriatrics, orthopedics, radiology, and emergency/urgent care among many others, Healdsburg District Hospital exceeds the standards of conventional healthcare.