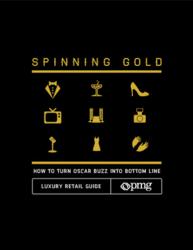 Fort Worth, TX (PRWEB) February 15, 2013
PMG, a full service digital agency with a specialty in the luxury retail market, today released Spinning Gold: How to Turn Red Carpet Buzz Into Bottom Line, a comprehensive guide to help luxury retailers understand and capture the consumer interest surrounding major events including awards shows, press coverage and new collection launches.
The guide is free to download at PMG.co/Buzz and shepherds retailers through the process of preparing for, capturing and creating revenue from buzz events. It covers year-round strategies like mobile and tablet customization and ongoing SEO preparedness, through content and social optimization. Readers are then guided through the processes of preparing a brand to capture increased intent, capitalizing on trends live during an event, and using all of the social media tools available to drive traffic and sales post-event.
We have collectively spent decades guiding luxury brands in how to protect their trademarks, capture buzz surrounding their products and designs, and gain incremental customers and increased market share through innovative marketing strategies, said George Popstefanov, founder and president of PMG. I think what will resonate most with readers of this guide is that it came about as a result of deeply passionate employees who love fashion and beauty and want to share better ways for brands to own the exposure and the purchase path of equally passionate viewers, current customers and aspirational shoppers.
About PMG:

PMG (Performance Media Group) is a full-service digital agency that cultivates the worlds most progressive brands online utilizing digital media, social media, e-commerce usability, information architecture (IA), and creative design. Founded in 2009 in Dallas/Fort Worth, our founders have a combined 30 years of experience in the media industry. Our clients range from retail and luxury to hospitality and CPG, but they all have in common the elusive trait of being pioneers in their own space. Our clients are hungry. They are cutting-edge. We are proud to enable their greatness.
Come find out more about our work and commitment at http://pmg.co or follow us on Twitter @agencypmg.
*Featured trademarks, brands, images and photographs included in this release and in the Guide are intellectual property of their respective owners.