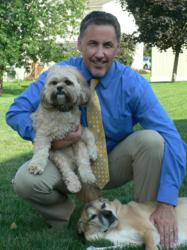 Boca Raton, FL (PRWEB) August 21, 2012
Dogington Post officially launched in March of this year, promising a forum of informative articles, newsworthy dog stories, health and breed information, and heartwarming videos for the most discerning dog lover. Dogington Post is the internet source of information for everything dog.
The site addresses current issues affecting dogs and their human parents. Articles on the site range from serious health concerns such as, "Are jerky treats killing dogs?" or "Can dogs get frostbite? to lifestyle issues on feeding, grooming, and the overall well-being and mental health of dogs.
Our goal is to be the internets leading authority for all things dog-related. It is a natural progression toward that goal that we add a qualified veterinarian to our staff, said Dogington Posts Top Dog, Harlan Kilstein. Dr. Smith brings years of experience, passion, and veterinary expertise to our team. We are thrilled to have him on board.
Starting as a volunteer in a veterinary clinic at the age of 15, Dr. Christopher Smith has devoted his life and passion to helping pets and the people who love them.
Dr. Smith worked through his high school and college years in a veterinary hospital and graduated from the University of Connecticut in 1988. He graduated from the University of Pennsylvania School of Veterinary Medicine in 1992 and was a general practitioner and part time emergency veterinarian for 17 years and a full time emergency veterinarian for the past 3 years.
During that time, Dr. Smith served as President of his local veterinary association, medical director of two veterinary practices and served as an expert, answering questions from pet owners around the world.
As a member of the Dogington Post team, Dr. Smith will answer questions submitted by the sites readers about their own dogs health and wellness. He will cover a broad range of topics, including a Pomeranian who is always hungry and a Shepherd mix with separation anxiety.
Dr. Smiths weekly advice column will be available on the sites home page. Inquiring dog parents can send their questions to him through a link on the site.
To find out more about Dogington Post and the addition of Dr. Chris Smith, Your Dogs Favorite Veterinarian, visit http://dogingtonpost.com.
About Dogington Post:

DogingtonPost.com was created for the love of dogs. The site was conceived and built through the combined efforts of contributing experts, technicians and compassionate volunteers who believe the way one treats their dog is a direct reflection of the state of our society. Through the creation of a knowledge base that informs, uplifts and inspires, all dog lovers can make a difference. With an easy to navigate layout and plenty of information from knowledgeable sources, Dogington Post allows the reader to quickly find the information they seek.