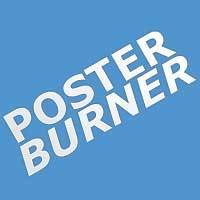 Chesapeake, VA (PRWEB) May 25, 2010
Today PosterBurner.com, the award winning website where users print custom posters, announced it became the first sponsor of the fast growing search engine DuckDuckGo.com.
"We have been following DuckDuckGo for a couple months now through sites like Reddit and Hacker News. As soon as we saw they started accepting sponsors, we jumped on the opportunity" said PosterBurner.com founder Rick Stephenson.
Many people have been recently switching from Google to DuckDuckGo. It offers much more privacy, and with zero-click info, less spam and clutter, it's results get you information faster.
PosterBurner.com prints and ships thousands of user uploaded posters each year. They have recently branched out into canvas printing with the website RoyalCanvas.com. "The RoyalCanvas launch surpased all of our hopes," said Stephenson. "We were shipping canvas prints to customers while we were still in testing mode. The reaction from customers when they get the canvas has been amazing."
You can learn more about DuckDuckGo and it's founder at Gabriel Weinburg's blog.
# # #