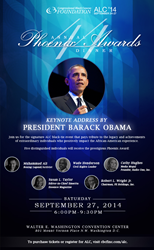 Washington (PRWEB) September 19, 2014
The Congressional Black Caucus Foundation, Incorporated (CBCF) today announced President Barack Obama as the keynote speaker for the 44th Annual Legislative Conference (ALC) Phoenix Awards Dinner, 6 p.m., Saturday, Sept. 27 at the Walter E. Washington Convention Center in Washington, DC.
We are again honored to have former CBC member President Barack Obama address this years Phoenix Awards Dinner, said A. Shuanise Washington, president and CEO of the CBCF. Since the beginning of his first term, President Obamas administration has been on the front lines in the ongoing fight for social justice, equal access to healthcare and economic empowerment for all Americans. We are proud to call him a partner in our mission to eliminate the civil and social disparities that many African Americans and black communities continue to face.
CBCF also announced the full list of the 2014 Phoenix Award honorees: media mogul Cathy Hughes; legendary boxer and activist Muhammad Ali; editor, writer and producer Susan L. Taylor; civil rights leader Wade Henderson; and chairman of FE Holdings, Inc., Robert L. Wright, Jr.
Cathy Hughes will be presented with the CBCF Chairs Award, which honors an individual whose work and accomplishments stand as a role model for the African-American community. Founder and chairperson of Radio One Inc., the largest African-American owned and operated broadcast company in the nation, Hughes is the first and only African-American woman to chair a publicly held corporation. Hughes also serves on the CBCFs board of directors.
Muhammad Ali will receive the Ralph Metcalf Award for Health, presented to an individual or group that has excelled in providing extraordinary contributions to improve the health and wellbeing of African Americans. Boxer, philanthropist and social activist, Ali is widely regarded as one of the greatest athletes in boxing history. Ali, who has Parkinsons disease, has been involved in raising funds for the Muhammad Ali Parkinson Center in Phoenix, Arizona. He has also supported the Special Olympics and the Make a Wish Foundation among other organizations.
Susan L. Taylor will receive the ALC Co-Chairs Phoenix Award, which exemplifies corporate leadership and social responsibility on a national level. Editor-in-Chief Emerita of Essence, Taylor is also the Founder and CEO of National CARES Mentoring Movement. Taylors honors include an honorary doctorate of Humane Letters, Lincoln University; National Association of Negro Business & Professional Womens Clubs business award; Howard University Excellence in Media Award; and the Women in Communications Matrix Award.
Wade Henderson will receive the CBC Chairs Award, presented each year to an individual who exhibits the highest standards of dedication, ability and creativity. Henderson is president and CEO of The Leadership Conference on Civil and Human Rights and The Leadership Conference Education Fund, which aims to promote and protect the civil and human rights of all people.
Dr. Robert Wright will be presented with the ALC Co-Chairs Phoenix Award, which exemplifies corporate leadership and social responsibility on a national level. Wright is an entrepreneur and the chairman and CEO of FE Holdings Inc. Under Wrights leadership, FE developed FE Professional