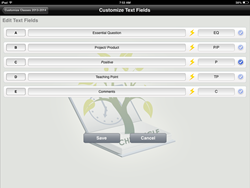 Mahwah, NJ (PRWEB) October 08, 2013
Following the enthusiastic reception for the initial launch of Chronicle, Powerhouse Education is pleased to announce the release of version 1.2. Responding to feedback from a growing and spirited user community of teachers, the new release will include the following time-saving features and enhancements:
1. The ability to import students from a .txt or .csv file.

2. The ability to import speed notes from a .txt or .csv file. This saves time for many teachers who have already collected multiple teaching points and/ or curriculum standards tied to their instruction. Chronicle already incorporates the Common Core K-12 Mathematics and Language Arts standards out-of-the-box.

3. Redesigned speed notes icon simplifies the association of text with speed notes.

4. The individual conference screen is now a simplified one-up interface. Additionally, it eliminates multiple tapping for editing, and displays more text at a glance.

5. A few stability enhancements.
Powerhouse Education is sincerely grateful for the enthusiastic feedback from the early adopters of Chronicle. Powerhouse Education is dedicated to advancing best practices in the classroom and will strive to deliver the best tools and world-class customer service.
Powerhouse Education was founded by husband and wife teachers, Andy and Ellen Raupp. With each having over ten years of teaching experience, Andy and Ellen are board certified and work in a nationally top-ranked school district in New Jersey. Understanding the increasing demands and expectations placed on teachers, Andy and Ellen created Powerhouse Education with the vision of providing teachers with the tools to effectively and more easily implement educational best practices. Andy and Ellen strongly believe that empowered teachers yield stronger, more successful students.
Powerhouse Education offers discounted multi-licensing for school districts, as well as on-site product training. State and local curriculum standards can also be added. Please contact us for more information.
Although there is limited functionality and data capability in its Lite Version, the user can try it and get a good idea of how the full-version, priced at $ 19.99, works.
For more information about Chronicle, please check out the website, http://www.powerhouseed.com. Be sure to use the YouTube link on the upper right to view the trailer video, demo overview, and many helpful tutorials.
The Chronicle 1.2 update will be available by mid-October.