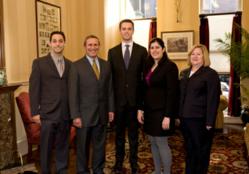 (PRWEB) April 08, 2013
The Law Firm of Pozzuolo Rodden P.C., Philadelphia Estate Planning Attorneys, announce the release of the article "Are Living Trusts An Estate Planning Tool Or Scam? " Below is a sample of the first couple of paragraphs. If you would like to read more, please read the full article and other corporate law, or estate planning topics at http://www.pozzuolo.com/Pubs_Newsletters.shtml
ARE LIVING TRUSTS AN ESTATE PLANNING TOOL OR SCAM?
Although Living Trusts are an important estate planning tool to consider they are not a cure-all estate planning tool. They are not an absolute necessary estate planning document and, even with a living trust, other estate planning documents are required to sufficiently administer a persons estate. Nonetheless, sales agents and trust mills market living trusts as an essential estate planning tool. They push these products onto susceptible consumers in a wholesale fashion without regard to whether a specific consumer actually benefits from a living trust. In reality, estate planning requires attention to individual needs and specific tailoring. Living trusts may or may not be part of those specific needs.
Living trusts, also called inter-vivos trusts, are legal documents which act as central vehicles for asset management. An individual, called a grantor, places his or her assets in the trust. A trustee manages the assets and oversees their distribution to beneficiaries. Usually, assets, like real estate or stocks and bonds, are titled in the name of the trust, and then on the death of the grantor, the trustee distributes the property to beneficiaries named in the document.
Living trusts may be useful estate planning documents for you. Their usefulness, however, depends on your specific estate planning goals, assets, and other information. The most celebrated claim of a living trust is that by using one, a person may avoid probate of his estate.
If you would like to read more, please read the full article "Are Living Trusts An Estate Planning Tool Or Scam?" and other corporate law or estate planning topics at http://www.pozzuolo.com/Pubs_Newsletters.shtml
Pozzuolo Rodden, P.C. provides specialized cost-effective legal services to privately held business owners and high-net-worth clients in Pennsylvania and New Jersey in excess of 35 years.
Practice Areas:
Business planning and transaction, complex business litigation, commercial real estate and development, construction law and litigation, advanced estate planning and administration, tax and pension law, high profile and intricate family litigation, and employment law and litigation.
Pozzuolo Rodden, P.C.

Counselors at Law

2033 Walnut Street

Philadelphia, PA 19103

215-977-8200

http://www.pozzuolo.com