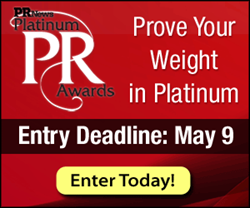 New York, NY (PRWEB) May 09, 2014
PR News Platinum PR Awards salute the years most outstanding communications initiatives and programs in the highly competitive and dynamic PR arena. The coveted awards set the industry benchmark for excellence across all areas of PR. The entry deadline is today, May 9 at midnight ET. PR News also offers a final deadline on May 16, 2014. Winners along with honorable mentions will be recognized in New York City at a September 16 awards luncheon.
For more information on the Platinum PR Awards, visit http://www.prnewsonline.com/awards/platinum-pr-awards2014.
The Platinum PR Awards are open to all individuals and teams worldwide at for-profit and non-profit organizations including: corporations, PR firms, public affairs and IR agencies, publicity firms, associations, government, and NGO teams, and sole practitioners. Vendors are also eligible to compete on behalf of clients.
The winners of the Platinum PR Awards are from corporations, agencies and nonprofits large and small who took chances, made tremendous strides and understand the power of public relations.
To enter online, visit: http://www.prnewsonline.com/awards/platinum-pr-awards2014.
Winners and honorable mentions will be awarded in the following categories: