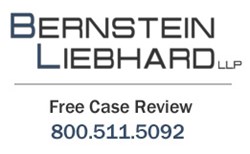 New York, New York (PRWEB) January 06, 2014
As Pradaxa lawsuits (http://www.pradaxalawsuithelp.com/) continue to move forward in courts around the country, Bernstein Liebhard LLP notes that the U.S. Food & Drug Administration (FDA) is planning a large scale assessment of Pradaxa bleeding rates. In a posting on an agency website, the FDA said the assessment will look at selected safety outcomes in adults with atrial fibrillation who are new users of dabigatran or warfarin.* According to a report published by Forbes.com, a major goal of the study will be to determine which patient populations are most likely to suffer a serious Pradaxa bleeding event. **
Thousands of Pradaxa lawsuits have been filed in recent years on behalf of individuals who suffered serious episodes of internal bleeding, allegedly due to their use of this drug. We are pleased to see that the FDA is preparing to embark on a large-scale investigation of this issue, says Bernstein Liebhard LLP, a nationwide law firm representing victims of defective drugs and medical devices. The Firm is currently offering free Pradaxa lawsuit evaluations to individuals who suffered serious internal bleeding while using this medication.
Pradaxa Lawsuits

In October, a report published by the Institute for Safe Medicine Practices (ISMP) revealed that Pradaxa had been named in more than 3,200 adverse event reports made to the FDA in 2012, including 582 fatalities. By contrast, warfarin was the subject of just 861 reports, including 56 deaths. Among other things, the report noted that there currently exists no emergency antidote to stop serious Pradaxa bleeding. Warfarin bleeding, on the other hand, can be stopped via the administration of vitamin K.***
Court documents indicate that at least 2,044 Pradaxa lawsuits have been filed in a multidistrict litigation now underway in U.S. District Court, Southern District of Illinois. All of the claims allege that Boehringer Ingelheim failed to provide adequate warnings regarding the risk of Pradaxa bleeding side effects, as well as the lack of an effective antidote for such an occurrence. The lawsuits further claim that use of Pradaxa has caused patients to suffer a number of bleeding-related injuries, including cerebral and gastrointestinal hemorrhages, some of which had fatal outcomes. These complaints also allege that even a minor trauma can have serious health consequences for patients taking this medication, due to a lack of a readily-available reversal agent to stop Pradaxa bleeding. (In Re: Pradaxa (Dabigatran Etexilate) Products Liability Litigation MDL No. 2385)
Pradaxa users who have allegedly experienced life-threatening episodes of internal bleeding while using this medication may be entitled to compensation for medical bills, lost wages, pain and suffering and other damages. To learn more about filing a Pradaxa lawsuit, please visit Bernstein Liebhard LLPs website. For a free case review, please call 800-511-5092.
*mini-sentinel.org/assessments/medical_events/details.aspx?ID=219, FDA, December 30, 2013

**forbes.com/sites/larryhusten/2014/01/03/fda-plans-new-safety-assessment-of-dabigatran-pradaxa/, Forbes.com, January 3, 2014

***ismp.org/QuarterWatch/pdfs/2012Q4.pdf, ISMP, October 17, 2013
About Bernstein Liebhard LLP

Bernstein Liebhard LLP is a New York-based law firm exclusively representing injured persons in complex individual and class action lawsuits nationwide since 1993, including those who have been harmed by dangerous drugs, defective medical devices and consumer products. The firm has been named by The National Law Journal to the Plaintiffs Hot List, recognizing the top plaintiffs firms in the country, for the past 11 consecutive years.
Bernstein Liebhard LLP

10 East 40th Street

New York, New York 10016

800-511-5092
ATTORNEY ADVERTISING.