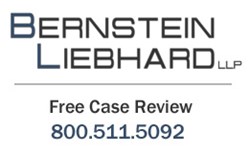 New York, New York (PRWEB) November 28, 2013
Hundreds of Pradaxa lawsuits (http://www.pradaxalawsuithelp.com/) continue to move forward in a federal multidistrict litigation now underway in U.S. District Court, Southern District of Illinois, Bernstein Liebhard LLP reports. According to court documents, the proceeding held its most recent Status Conference on November 18, 2013, at which time the Court received an update on the status of discovery and the scheduling of depositions. In Re: Pradaxa (Dabigatran Etexilate) Products Liability Litigation MDL No. 2385)
We continue to receive Pradaxa lawsuit inquiries from individuals who used this blood thinner, and who allegedly experienced serious episodes of internal bleeding while doing so. We are pleased to see this litigation moving forward, says Bernstein Liebhard LLP, a nationwide law firm representing victims of defective drugs and medical devices. The Firm is currently offering free legal evaluations to alleged victims of Pradaxa bleeding side effects.
Pradaxa Lawsuits
Court records indicate that more than 1,872 Pradaxa lawsuits have been filed against Boehringer Ingelheim in the Southern District of Illinois. The drug maker is accused of failing to provide doctors and patients without adequate warnings about the serious risks associated with the blood thinner, including the lack of an antidote for Pradaxa bleeding side effects. According to court documents, the federal litigations next Status Conference has been scheduled for December 20, 2013 at 3:30 p.m. via telephone.
In October, the Institute for Safe Medicine Practices (ISMP) reported that the U.S. Food & Drug Administration (FDA) had tallied more than 3,292 reports of adverse events and 582 deaths involving Pradaxa side effects in 2012, more than any other drug it tracked that year. Most of those reports detailed instances of serious Pradaxa bleeding. By contrast, warfarin, the blood thinner Pradaxa was supposed to replace, was named in only 861 FDA reports, and just 56 deaths.*
Alleged victims of Pradaxa bleeding side effects may be entitled to compensation for medical bills, lost wages, pain and suffering and other injury-related damages. Click Here to contact a Pradaxa lawyer with Bernstein Liebhard LLP. To arrange for a free legal consultation, please call 800-511-5092.
**ismp.org/QuarterWatch/pdfs/2012Q4.pdf, ISMP, October 17, 2013
About Bernstein Liebhard LLP

Bernstein Liebhard LLP is a New York-based law firm exclusively representing injured persons in complex individual and class action lawsuits nationwide since 1993, including those who have been harmed by dangerous drugs, defective medical devices and consumer products. The firm has been named by The National Law Journal to the Plaintiffs Hot List, recognizing the top plaintiffs firms in the country, for the past 11 consecutive years.
Bernstein Liebhard LLP

10 East 40th Street

New York, New York 10016

800-511-5092
ATTORNEY ADVERTISING.