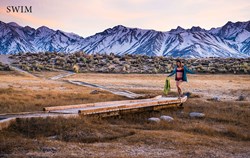 Carlsbad, CA (PRWEB) December 04, 2013
PrAnas swimwear and accessories are the perfect companions for people ready to escape this seasons snowstorms and relax in warmer locales.
Weve really focused on a tightly curated line whose sophisticated color-ways and clean lines work together to create a seamless collection thats ready for some R&Ryou could do your sun salutations on the beach, then walk right into the ocean if you want, said Ellen Krimmel, Design Director at prAna. That means you can pack your bags a little lighter without scrimping on style.
PrAnas coordinated pieces blend form and function allowing its wearer to move and stretch with confidence. The well-appointed collection includes swim tops, bottoms and cover-ups in fresh color-ways and new patterns. Flattering fits and flexible styles make these suits ready for almost anything.
This is a dont-leave-home-without-it collection thats ready to help you look and feel great whether youre getting away for a tropical weekend or skipping the snow entirely this season, said prAna CEO Scott Kerslake. Were always trying to create pieces that work well together fun styles with proper fit and multiple functions can help people do more with less.
Whether its swimming, surfing or yoga, these flattering, elegant styles can be trusted to stay put and look great. The Retreat Swim Collection is available now in stores and online at prAna.com.
-30-
PrAna is a lifestyle brand that draws its name from the ancient Sanskrit word for breath, life and vitality of the spirit. Born from climbing and yoga, the prAna team creates mindfully-designed, purposeful and stylish apparel for free spirited people to pursue their passions on the water, mat, rock, trail, and street. From its beginning in 1993, prAna has been committed to weaving sustainable practices into its operations and supply chain, working to reduce its impact on soils, water supplies and other natural resources while promoting conservation. PrAna is also conscious of its impact on communities and has worked to include a growing number of fair trade styles every year. It is one of the first apparel companies in North America to offer Fair Trade USA certified products and accessories. PrAna is sold in 5 flagship stores, online at prana.com, and in 1,400 specialty retailers across the US, Canada, Europe and Asia.
For a list of prAna retailers, please visit http://www.prana.com/dealer-locator.html.