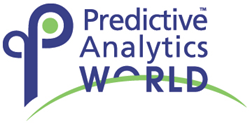 Santa Barbara, CA (PRWEB) September 22, 2014
Forward looking enterprises will strut their stuff at Predictive Analytics World (PAW) Boston 2014, to be held at the Seaport World Trade Center on October 5 – 9. PAW is the leading event for predictive analytics professionals, managers and commercial practitioners, formed in 2009 to cover the commercial deployment of predictive analytics across industries and software vendors. The conference delivers case studies, expertise and resources to leverage big data for prediction and drive value.
Our conference provides the core education, insight and networking necessary to advance careers and improve organizational maturity, exclaimed PAW Conference Chair and Founder, Eric Siegel. To continue achieving that direction this year in Boston, PAW is bringing top predictive analytics experts and practitioners into the spotlight. Attendees will hear keynote speeches from Sameer Chopra of Orbitz Worldwide, Jack Levis of UPS, and John Foreman of MailChimp.
Additionally, about 30 informative sessions will reveal how predictive analytics is applied among Fortune 500 analytics competitors and top enterprises such as Activision, Bank of America, BlueLabs, Citibank, Capital One, Citrix, eBay, Facebook, Fidelity Investments, Hewlitt Packard, IBM, JPMorgan Chase, Kabbage, LinkedIn, nTelos Wireless, Oracle, Paychex, Sears Holdings, State Street, Think Big Analytics and Verizon Wireless.
The many attendees will also gain valuable techniques by participating in any of the six pre and post conference workshops, which complement the core conference program. The PAW workshops lay out the perfect foundation for mastering predictive modeling, big data concepts, and hands-on strategies for better implementing predictive analytics.
With the PAW Boston agenda sessions, keynote speeches, workshops, exhibitor hall, and networking opportunities lined up, Predictive Analytics World sets the bar for hitting a home run with big datas biggest win: the power to predict. Hundreds will gather to take in how predictive analytics is Delivering on the promise of big data.
In anticipation of the event, Eric Siegel remarked, Were extremely excited to gather the analytics community together to explore the gamut of commercial applications of predictive analytics, including political persuasion with uplift modeling, client retention with churn modeling, leveraging big data with analytics strategy, infrastructure planning, online marketing optimization, fraud and risk detection, data privacy, credit scoring, workforce analytics. Readers interested in attending may register.
PREDICTIVE ANALYTICS WORLD FOR HEALTHCARE: Predictive Analytics World for Healthcare, October 6-7, 2014, is co-located with PAW Boston and focuses on revealing how predictive analytics improves patient care, reduces costs and brings greater efficiencies to the healthcare industry.
About Predictive Analytics World

Predictive Analytics World is the business-focused event for predictive analytics professionals, managers and commercial practitioners. This conference delivers case studies, expertise and resources to achieve bigger wins through strengthening the impact of predictive analytics deployment, broader capabilities by establishing new opportunities in data science, and improved value via leveraging bigger data for prediction.
About Rising Media, Inc.

Rising Media is a global events producer excelling in Internet and technology-related conferences and exhibitions. Rising Media-produced events include Data Driven Business, the eMetrics Summit, Conversion Conference, Predictive Analytics World, Text Analytics World, Affiliate Management Days, Building Business Capability, Social Media Economy Days, Web Effectiveness Conference, Search Marketing Expo, SemTech and Social Gaming Summit in the US, Canada, UK, France, Germany, Sweden, Finland and Australia.