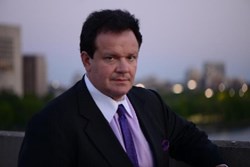 Salem, NH (PRWEB) February 20, 2014
New Hampshire DWI Lawyer Mark Stevens and @ByeByeDWI ranked among the top 13 social networking attorneys in the country. When EverSpark Interactive, an Atlanta-based SEO company, scoured the web for law firms (big or small) and lawyers using social media sites like rock-stars, prominent New Hampshire Defense Attorney Mark Stevens hit their radar hard. With just slightly under 70,000 followers on Twitter alone, it's no wonder why NH DUI lawyer Mark Stevens made the cut. Attorney Stevens may be known in the Twitterverse as @ByeByeDWI, but his Twitter handle isn't the only catchy networking tool in his back pocket. His perfectly paired website name "byebyedwi.com" might just be the key ingredient to dominating a niche in a huge online market.
Social media is such a highly recruited member of so many businesses today, mostly due to its game changing capabilities. Simply put, it's a game changer. The Law Office of Mark Stevens has opened up doors yielding to new and potential clients, client-referrals, and client reviews which until now had yet to be opened. Attorney Stevens dominates the social media world, popping up just about everywhere from Podcasts to YouTube, Facebook to Snapchat, and even Foursquare; you'll find Attorney Stevens in some of the most unlikely places to find a lawyer, however, very likely to find perhaps, a potential client in need of a lawyer. Mark Stevens has gained huge repute for his rather respectable following of not just "fans" but, friends, and in return has created attorney-client friendships (and agreements) through a much more diverse and interactive, multi-layered development of trust, virtually obsolete within the legal field in the past.