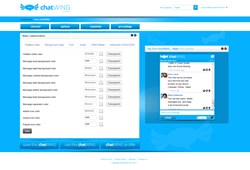 New York, NY (PRWEB) October 01, 2013
Chatwing.com has launched a new chat app that is meant for the analysis of key WordPress topics. According to Chatwing developers, this chat software is essential for bloggers who are starting out in WordPress. The new chat box contains potential features such as customizable fonts, colors, background images, live control panel, and multiple moderator system.
Since WordPress is really a competitive site, juggling topics is really essential before a blogger should carve his niche. In approximation, there are thousands of bloggers that are under a specific WordPress niche, says Ivan Diamond, project head for Chatwings WordPress expansion. There are various topics that anyone can churn out. However, the questions are imminent. Are those topics timely? Is the niche highly popular and active?
This is where the Chatwing chatroom kicks in. This simple chat app can be used for topic analysis wherein visitors can pitch their ideas at any given time. There are no limits for ideasany topic is open for discussion and scrutiny. Moreover, Chatwing has social media leverage, so discussions can even reach as far as Facebook and Twitter, Ivan Diamond said.
Chatwing chatroom has been making several appearances in the WordPress arena for many months now. True to its public online service, the company will introduce more leverage options for WordPress users.
About Chatwing.com
Chatwing.com specializes in the new field of website chat software. Over years, the Chatwing team has introduced live chat widget for hundreds and thousands of blogs. The Chatwing application bridges people from many parts of the world, creating global synergy through the Internet. The shout box can be installed in just seconds, and it can be used for varying purposes such as leisure and Internet marketing. It also allows a user to customize the size, color, and name of the widget.