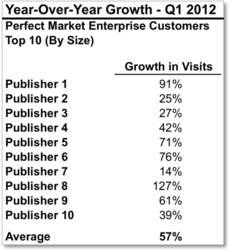 Pasadena, Calif. (PRWEB) May 31, 2012
Perfect Market, Inc., a leading provider of traffic and content optimization solutions for web publishers, today announced that an analysis of its publisher partners who have implemented the Perfect Market Enterprise platform shows a consistent, year-over-year growth in visits of more than 50 percent on average for the first quarter of 2012. Additionally, the year-over-year growth in visits for Perfect Markets top 10 (by size) Enterprise customers averaged 57 percent with one customer in particular experiencing a 127 percent increase in total visits.
Customers who have deployed the Perfect Market Enterprise platform on their sites have seen growth that significantly outpaces the overall search market growth which, according to a recent Comscore report, only grew by approximately 8% year-over-year.
Link space on most websites is a valuable commodity and must be used to its fullest potential, said Stephen Walker, COO at Perfect Market, Inc. Perfect Market goes above and beyond the basics of page optimization by de-cluttering unrelated elements from the page and grouping like content together through related links and relevant topic or keyword pages. The uniqueness of our technology is that we know which pages are which we predict which pages are likely to have continued interest and should therefore continue to be featured versus which articles are unlikely to have interest and therefore can be orphaned. Sophisticated publishers implement similar programs but few see growth rates as high as 50 percent per year.
Perfect Market bolsters sites with 5-10x improvement on in revenue on pages they optimize through its innovative optimization program and technology which ensures that links to articles with continued relevance, reader demand (traffic potential) and advertiser demand (revenue rate potential) remain well-linked and prominent on a publishers site. This results in a more satisfied user, increased traffic and higher click-through rates for advertisers which ultimately generates more revenue to publishers. More than 40 customers have deployed the Perfect Market Enterprise solution on their sites, including some of the worlds premier publishing and content producers.
Perfect Market's Enterprise Product includes features and offerings that grow engagement, traffic and revenue for online publishers. Key features of Perfect Market Enterprise include:
SMART SEO

Working with huge libraries of high quality, professionally written content, Perfect Markets algorithms and semantic analysis system identifies the highest value related content and ensures that every page is linked to the most relevant related stories. As a result, readers and search engines see strong clusters of related, interlinked articles that drive engagement and traffic.
HIGHLY TARGETED PPC ADS

Perfect Market uses the same semantic analysis of the content that helps search engines understand content and applies that to on-page advertising. This technology dramatically improves the relevance of CPC ads for visitors to article pages, resulting in high increased yield from existing CPC ad networks and improvements in the user experience.
FEATURED CONTENT BOXES

Perfect Market Enterprise adds a layer of science by displaying a featured content box on your article pages that highlights your best performing content. By measuring every link click, the featured content box self-optimizes to yield click thru rates up to 5% on your highest monetizing evergreen content.
ADAPTIVE PUBLISHING

Perfect Market believes that customizing the display and packaging of content is integral in creating a highly engaging experience for all readers. The adaptive publishing platform does just that. By identifying key elements such as audience segment, page type, page length, and publication date, we can make real-time data-driven decisions about what to display, where, and when.
CUSTOMIZABLE TEMPLATE DESIGN

Perfect Market recognizes that no two publishers sites look alike, and have built our solution to be flexible and customizable. We work with each individual publisher to fine-tune sizes, placements, fonts, and colors so that the modules integrate seamlessly into your existing design and brand.
CONTENT MANAGEMENT TOOL (AKA THE VAULT)

The Vault provides publishers with the ability to visualize, analyze, and override everything tracked and generated behind-the-scenes through a clean and engaging user interface.
REPORTING

Perfect Market provides clients with a weekly report that shows total traffic, revenue, and RPM levels across the site. This data is also collected and analyzed internally to help build or enhance products designed to further increase engagement, traffic and revenue for your online content.
About Perfect Market:

Perfect Market works with professional publishers to create, distribute and monetize content more effectively online. Perfect Market's patented solutions helps publishers, including San Francisco Chronicle, Orlando Sentinel and Chicago Tribune serve readers with exactly what they are looking for in online content. By delivering the right content in the right format, to the right user, with the right relevancy, Perfect Market has significantly increased the revenue for its publishing partners. Perfect Market is headquartered in Pasadena, CA with offices in New York.