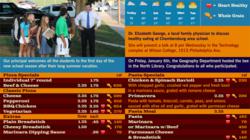 Denver, CO (PRWEB) July 11, 2012
Epicure Digital Systems, a leader in digital menu boards, presents at the ANC 2012 School Nutrition Association (SNA) National Conference, Colorado Convention Center, Denver, CO. July 16-18, 2012, Booth #708, the Epicure Digital NutriLive Nutritional Menu Labeling System for Digital Menu Boards and Epicure Digital NutriLive Online to automatically post on school websites digital menu boards in English and Spanish, to meet new legislations.
At the SNA Conference, Epicure Digital (http://www.epicuredigital.com) will present the Epicure Digital NutriLive nutritional menu labeling system that allows food services to easily control and present nutritional values, information for customers with special food and nutrition needs, and creative ways to highlight special food items; and, Epicure Digital NutriLive Online to automatically post these digital menu boards in English and Spanish on school websites. These nutritional labels can display as nutritional data, nutritional scoring, and icons representing food groups, healthy choices, allergens, vegan, vegetarian, local and organic and others.
K-12 schools have just finished their preparation to meet the new revolutionary nutritional standards and must now prepare themselves to meet sections 204 and 209 of the Child Nutrition Reauthorization Healthy, Hunger-Free Kids Act of 2010 to promote nutrition and make information more readily available to parents about the nutritional quality of meals. The K-12 Epicure Digital Menu Board System with NutriLive helps schools meet the new legislation and increase participation in school lunch and breakfast programs.
"Schools are now providing more nutritious and healthier food choices," said Harvey Friedman, president and founder of Epicure Digital Systems. "Now the challenge is to educate students to choose these healthy choices in the school cafeteria and as a way of life. By creatively combining our easy-to-use Epicure Digital NutriLive nutritional menu labeling system with motion graphics and food photography, Epicure Digital produces visually compelling multimedia menus to educate students to make informed choices."
The newly introduced Epicure Digital NutriLive Online system allows any size school district to publish each schools daily changing breakfast and lunch menus on each schools website in English with an optional Spanish version, to educate and inform students and parents. Installing digital menu boards in all the schools in a district is going to take many years due to budgetary limitation. With Epicure Digital NutriLive, school districts can implement the online menu in all their schools now by installing just one digital menu board in one school and continue installation of actual menu boards in further schools if and when budgets allow.
Epicure Digital Systems custom designs highly graphical digital menu board systems to solve each of its food service clients complex menu engineering issues.
Epicure Digital is a digital menu board company uniquely integrating its expertise in software technology and food service operations and marketing to create digital signage products and services for the food service industry.
Its core product is the Epicure Digital Menu System. Its core services are menu engineering, nutritional menu labeling, and content creation. Its tools increase efficiency, revenues and profitability.
The company differentiates itself from other signage suppliers by specializing in digital menu boards; Epicure Digital is not a general-purpose signage company. Some of the unique Epicure Digital features include:


Epicure Digital NutriLive
Easily control nutritional menu labeling on your digital menu boards
Epicure Digital LiveMenu
Easily rearrange the layout of your digital menu boards
Epicure Digital LiveText
Instantly change and update your menu items, descriptions, prices and icons
Epicure Digital NutriLive OnlineMenu
Automatically post your digital menus & promotions on your website in English and Spanish.
Epicure Digital WebAccess
A secure online interface designed to be quick and easy-to-use by non-technical food service personnel
Epicure Digitals clients include K-12 schools, colleges and universities, hospitals, independent and chain restaurants, contract food service companies, business & industry, and cinemas and casinos among others.
The companys website (http://www.epicuredigital.com) has an extensive portfolio of its clients multi-screen and multi-station digital menu board projects.
Visitors at the SNA Conference will be able to view animated versions of the Epicure Digital Menu Board System with nutritional menu labeling on large LCD screens, including systems recently installed at K-12 school across the country.

For more information, contact:
Tommy Orpaz,

310-652-8246

torpaz(at)epicuredigital(dot)com