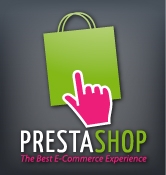 Miami, Florida (PRWEB) September 20, 2012
PrestaShop, the world's most popular e-commerce solution powering more than 125,000 active online stores worldwide, is pleased to announce v1.5 is now final and available for global use.
Version 1.5 contains dozens of new features including mutlistore management, a redesigned Back Office, enhanced SEO, a new modules API (application programming interface) and a rewritten core that makes the customization of PrestaShop even easier for developers.
"PrestaShop v1.5 is the most advanced Open-source e-commerce solution in the industry. With this new release, PrestaShop will continue to revolutionize the world of online sales by making it accessible to everyone," said Matt Serralta, Chief Operating Officer at PrestaShop.
PrestaShop v1.5 has been designed to make owning and operating an online store easy. No matter one's technical knowledge, the installation, configuration and management of PrestaShop is fast, simple and easy to handle.
"It's amazing how easy it is to build and maintain a successful online business with PrestaShop v1.5. And the simple fact that this solution is free and open-source makes it a no-brainer for anyone who may be thinking about starting their own online business," said Bryan Shaw, Marketing Specialist at PrestaShop.
For those already using PrestaShop as their e-commerce solution, a one-click upgrade method is available to every merchant who would like to update their current stores to v1.5.
In addition to the one-click upgrade, online merchants can now experience expanded profit margins and increased conversion rates thanks to a completely reimagined Front Office design.
With PrestaShop v1.5, starting an online business has never been easier or more cost-effective. This amazing new version is available for free, and those interested in starting their own online business simply need to click here in order to get things started.
About PrestaShop

PrestaShop continues to be the worlds leading Open-source e-commerce solution powering more than 125,000 stores worldwide. Backed by the industrys leading partners, PrestaShop ensures easy online selling by providing more than 300 advanced features that can all be customized to fit the needs of every online business. The growing Success of PrestaShops software is thanks to countless code contributions, suggestions and encouragement from its ever-expanding 300,000 member Community. PrestaShop is the winner of the 2010 and 2011 Best Open-source Business Application awards, and its passion for pursuing excellence is fueled by business owners who desire a free, powerful and easy e-commerce solution.