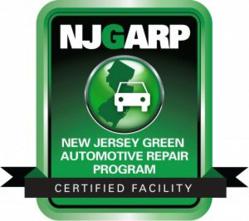 Ramsey, New Jersey (PRWEB) March 22, 2013
Officials from NJGARP confirmed through an on-site inspection that Prestige Lexus met the requirements to remain a Certified Green Facility. The dealership has maintained the green business practices it implemented in 2010 to conserve natural resources and reduce its carbon footprint. Prestige was the first, and remains the only Lexus dealer in the state of New Jersey to be granted Certified Green status.
Its very important to respect our environment and to reduce our impact on it in any way we can, said Prestige Lexus General Manager Joe Billotti. Weve managed to do away with a lot of the harmful emissions that are typically generated by auto service departments. Thats beneficial for the health and well-being of our employees, our customers, and our community, which are all important to us.
Prestiges emphasis on environmental consciousness was inspired in part by the principles of its parent company. Lexus has been a proponent of gasoline-saving hybrid technology since the RX Hybrid debuted in 2005. The automaker offers five hybrid models in its current vehicle lineup: the ES, GS, and LS Hybrid sedans, the CT Hybrid hatchback, and the RX Hybrid SUV.
The companys gas-only models have also been recognized for their eco-friendly properties. All 2012 Lexus models, excluding the high-performance LFA supercar, met Ultra-Low Emission Vehicle (ULEV II) EPA certification standards.
Lexus has also made green manufacturing a priority at the corporate level, through waste reduction, energy efficiency, and use of sustainable materials. Seat cushions are made with foam derived from castor seeds rather than plastic, speakers are fabricated using sustainable bamboo, and carpeting is composed of 30% plant-based materials. Every Lexus manufacturing plant has achieved Zero Landfill Status, meaning that all waste is recycled, repurposed, or used to generate additional energy.
Customers interested in learning more about Prestiges commitment to the environment or any of its available hybrid models should visit http://prestigelexus.com, or call (855) 657-1599 to speak with a friendly customer service representative.
About Prestige Lexus

Prestige Lexus of Ramsey is an authorized Lexus dealer that provides areas of New Jersey and New York with quality Lexus vehicles, service, and parts. Thanks to the friendly, knowledgeable staff at Prestige Lexus, thousands of local car shoppers have become proud Lexus owners and lessees. Prestige Lexus is owned by Prestige, one of the largest automotive dealership entities in the United States.
Sources:

lexus.com/about/corporate/environment_technology.html