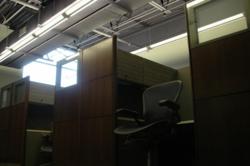 Sussex, WI (PRWEB) December 19, 2012
The decision to move forward with the expansion was announced after a company-wide meeting earlier in Fall of 2012. President and CEO, Matt Morse decided to pursue the build-out after the company reached a major milestone in sales and had a record year.
Brand Manager of Prestwick Limited, Mike Fryatt commented on the build-out. "The new addition is more than just office space to us – it's the next step in our company's evolution."
Prestwick has seen considerable expansion beyond just its recent office space expansion. With a growing presence in the marketplace and at leading industry trade shows, it doesn't come as a surprise to many that they've now had sales in 48 countries and in all 50 states.
Prestwick Limited manufactures tailored, sustainable furnishings made of pure recycled plastic for the hospitality industry. Time-honored craftsmanship is evident in each furnishing ranging from Towel Valets and Caddies, to Waste & Recycling Stations available in 100 different color combinations and literally thousands of tailored possibilities to fit a variety of aesthetics.
Environmental stewardship plays a key role in Prestwicks day-to-day operations, a driving force in their decision to become powered by 100% renewable energy as an EPA Green Power Partner. Prestwick Limited is committed to enhancing the overall guest experience and helping customers reach their goals in recycling and sustainability.