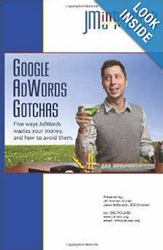 San Jose, CA (PRWEB) April 29, 2015
The JM Internet Group, a leader in AdWords training online, is proud to announce a promotional price for their AdWords book for small business, AdWords Gotchas. Beginning April 28 and ending on May 30, 2015, the book will have a promotional price of 99 cents on Amazon.com.AdWords, of course, is Googles pay-per-click advertising program. The JM Internet Group, under the direction of Jason McDonald, offers both training and consulting in the correct use of Google AdWords. The AdWords Gotchas book was first published in April, 2014, yet remains timely even today.
The effective use of Google AdWords can be difficult for most small businesses, explained Jason McDonald, director of the JM Internet Group. Unlike most books on AdWords, this book explains what not to do in plain language rather than be a promotional piece about how and why to use the platform. AdWords has many fantastic uses, and there are many fantastic books on how to use AdWords, but there is only one book about the gotchas hiding in the AdWords system, this one.
To learn more about the book, one can visit the book page on Amazon directly at http://www.amazon.com/exec/obidos/ASIN/1497539064/jmgrp-20/. Alternatively one can visit the AdWords gotchas page on the JM Internet Group website at http://www.jm-seo.org/books/adwords-gotchas/. There, in addition, to information about the book, one can learn about online AdWords training as provided by the company.
AdWords and Small Business Marketing
AdWords is the primary revenue source for Google, and often can be an excellent mechanism by which small businesses can reach their customers. That said, many small business owners and marketers lack the expertise necessary to create an effective AdWords campaign nor do they have the budget to hire a true expert. The AdWords Gotchas book explains many common mistakes made by small businesses, mistakes that can cost quite a bit of money. Among them are

Incorrect use of keyword match types. Most users of AdWords do not understand the various match types that trigger ads. These range from broad match to modified broad match to phrase match to exact match. In many cases, advertisers run on the broad match type without truly understanding its implications.
Incorrect use of the Google Display Network or GDN. The GDN has many wonderful opportunities on it, but it also has many terrible sites and terrible placements that do little more than consume budget.
Incorrect use of enhanced campaigns. Google has encouraged every advertiser to go mobile, yet in many cases going mobile is a big mistake. Unfortunately, many advertisers do not know how to turn off mobile advertising.
The book explains these gotchas in great detail, and has links to important videos on YouTube that further explain AdWords. The YouTube videos can be browsed online at no charge at the companys YouTube channel. Note that 'AdWords Gotchas' is also featured on the company's list of best books on AdWords at http://www.amazon.com/AdWords-Tutorials-eBooks-Books-Google/lm/R18X6SZGMWAWAK.
About JM Internet Group
The JM Internet Group provides SEO, Social Media Marketing, and Google AdWords training and courses for busy marketers and businesspeople. Online search engine optimization training helps explain keywords, page tags, link building strategies and other techniques needed to climb to the top of search engine rankings for Google, Yahoo, and Bing. The teaching methodology is hands on, with live examples and discussions, taught from the convenience of each students computer.
Contact:

JM Internet Group, Media Relations

Web. http://www.jm-seo.org/

Email. jm(dot)internetgroup(at)gmail(dot)com