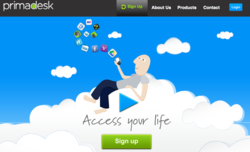 San Francisco, California (PRWEB) August 08, 2012
Primadesk, a leading provider of personal cloud content management services, today announced its integration with Citrix ShareFile, a market leading provider of secure, cloud-based data storage, sharing and collaboration solutions for businesses. The integration allows businesses to organize and consolidate cloud-based applications on Primadesk, and provides the ability to easily drag and drop files from other services into ShareFile. This integration is an example of the increased functionality Primadesk is bringing to the personal cloud space.
The ability to access and share files from anywhere is quickly becoming a critical requirement for todays mobile workers, said Jesse Lipson, VP and GM, Data Sharing, Citrix. The collaboration between ShareFile and Primadesk is designed to make it even easier for businesses to share data and exchange files securely across any device.
To rapidly scale its open platform and integrate with ShareFile within a few days, Primadesk leveraged ShareFiles API portal, an online resource featuring tools and documentation that make it easy for partners, developers and customers to integrate their applications or services with ShareFile. For more information, please visit http://api.sharefile.com/.
We are always looking for ways to bring our users additional functionality and increased productivity, said CEO of Primadesk Srinivasa (Venky) Venkataraman. Adding ShareFile to our growing list of services that we manage, organize, and backup will tremendously increase this functionality and also allow users to access ShareFile on the go – through Primadesks mobile applications.
With the integration of Citrix ShareFile, Primadesk has now connected over 30 cloud-based services. These services include: