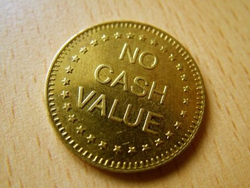 Eugene, OR (PRWEB) April 28, 2015
In information technology, a token is a surrogate value substituted for an existing value, usually when the existing value is sensitive or regulated. Prime Factors' Vice President Jeff Cherrington discusses where tokenization fits in the data protection landscape in a webinar on Thursday, April 30, at 1 PM Central.
Data breach mitigation has become a board-level issue for many organizations, and determining which data protection strategy is best for given situations can be challenging. Tokenization is receiving renewed interest, as it is mentioned in the context of emerging payment services, such as Apple Pay. The technology is frequently mentioned in the same contexts as encryption, as a means to protect sensitive data processed by enterprises. During the webinar, Cherrington reviews these two dominant strategies for persistent data protection, highlighting how they are similar and how they differ. Appropriate uses of each will be illustrated with use cases, and questions from the participating audience discussed.
"Enterprises are realizing that data breaches are inevitable. For organizations of all sizes, it's not a question of if they will be breached, but when — if it has not already," says Cherrington. "Tokenization and encryption both offer approaches that minimize the negative impact of a data breach. However, understanding the strengths and constraints of each is key to applying them successfully."
Those interested in learning more about tokenzation, and how it compares to encryption as a strategy for data protection, should register here More information on tokenization and encryption, including whitepapers and replays of prior webinars, can be found at Prime Factors' website.
About Prime Factors, http://www.primefactors.com
Prime Factors has focused solely on the cryptographic needs of data centers for over thirty years. It creates solutions that make information security professionals' jobs easier while anticipating the market's next data security challenges. Prime Factors' encryption and tokenization products reflect those decades of experience, ensuring that their cryptographic integrity is fully complemented by simplified integration interfaces that reduce development cost and time-to-market. Customers can align a solution to their specific data protection goals, address regulatory compliance, and implement in less time than with alternatives.