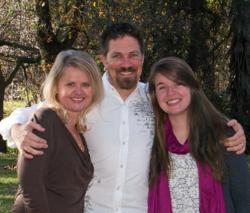 Chico, California (PRWEB) April 24, 2013
Michael and Kathryn Redman, principal owners at Half a Bubble Out Marketing are thrilled to be celebrating 20 years of marriage, 10 of which have been both surviving and thriving as business partners at the agency.
Half a Bubble Out began in 2002. The early days were spent in the guest bedroom of the Redmans home before later transferring to the converted garage. Early work consisted of consulting for small businesses, designing branding materials, building websites, and a lot of video production. One of the first major video projects was a full length documentary about Bidwell Park in Chico, California that aired on PBS and Fox.
In the early days we were just trying to bring in business, Michael K. Redman said. We were just like any other startup except we didnt leave the office and go home to someone else. Sometimes we got a little stir crazy but most of the time it was perfect. We just love being around each other. The tough days havent come from each other but from trying to survive the toughest economic collapse since the 20s. Kathryn always says our real challenges are external and we always face those together. Im happier now then I have ever been before.
From 2006 to 2008 Half a Bubble Out expanded one step at a time. From one-suite in their building to two suites and eventually three where they remain today. They appreciate now having the space for the floor to ceiling canvas of Trafalgar Square in London, (Kathryn is originally from England) a drum kit, (Michael likes to bang around a bit) to the conference room with the long dining room table and the full living room for clients and our staff to hang out.
As Half a Bubble Out grew to acquire a wide range of clients who not only needed marketing services, but a full advertising agency as well, they began producing television and radio commercials, designing print advertising, negotiating media buys, and growing in all areas of internet marketing.
Michael and Kathryn are a dynamic duo. While Michael focuses on Creative Direction, Kathryn is a master at project management and content development. Together, their desire to build character and competence with customers and help tell their stories, while providing impeccable customer service is what sets them apart.
We both believe in learning and growing, Kathryn Redman said. "We want to bring quality to our clients but I think thats normal. What sets us apart for better or for worse is that we know we arent the best fit for everyone. Because we like what we do we protect that like gold and we dont think its good for our company or our clients if we work with people that dont have similar values. So far its worked well for us. Even our daughter wants to start her own company. How bout that.
Half a Bubble Outs main goal for clients has always been to tell their stories, and it continues to do so as the agency begins to focus more time and energy on small business internet marketing services.
To learn more about Half a Bubble Out contact the agency directly by calling 1-800-716-4226 or visiting the website.
About Half a Bubble Out
Half a Bubble Out is a 21st Century Marketing and Advertising Agency that helps small businesses increase profits by strategically telling their story in a creative and compelling way. Since 2002, Half a Bubble Out has been helping small businesses achieve their potential in a holistic and sustainable way, helping them serve their current customers and build business with new customers, while allowing people to thrive, contribute to community and achieve profitability. Half a Bubble Out serves its clients in the role of internet marketing consultant as well as traditional marketing consultant, and designs and implements just about every form of marketing or advertising collateral that companies need to be successful.