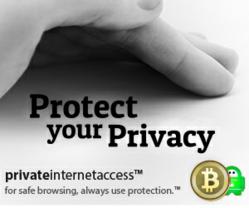 (PRWEB) December 20, 2012
PrivateInternetAccess.com continues to improve their customer's VPN experience. They have increased their number of servers from 91 to 107, which adds additional bandwidth to an already fast service. They have added the functionality of Port Forwarding, Internet Kill Switch, and DNS Leak Protection.
Their added Port Forwarding function will help speed up user downloads. Port Forwarding is an advanced function, but for those looking to optimize their download speeds, it is a useful function.
PrivateInternetAccess.com added Internet Kill Switch protection. The purpose of this is to disable a users internet connection should their VPN service be disconnected for any reason. This ensures privacy when browsing. Without the Internet Kill Switch, should a user's VPN service disconnect, their computer's internet will switch to their personal IP for browsing. This may lead to an undesired loss of anonymity. The Internet Kill Switch function ensures users remain private at all times.
PrivateInternetAccess.com has also added Domain Name System (DNS) Leak Protection. This ensures that DNS requests are routed through their VPN Service. By adding this function, PrivateInternetAccess.com ensures the greatest level of privacy and security while using their VPN.
About us:

PrivateInternetAccess.com was founded in 2009 in response to the very real need to protect the privacy of internet users. It is our mission to provide users with total internet anonymity and security. If you would like more information on this topic, or to schedule an interview with Will McAdams, please call 855/266-6876 Ext. 903 or e-mail Will at Will(at)londontrustmedia(dot)com.