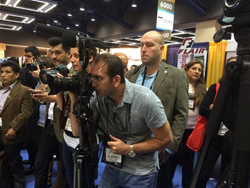 Tustin, CA (PRWEB) August 12, 2014
Absolute Exhibits, a custom exhibit rental and marketing services provider, is offering discounted pricing for corporate videos for this falls Produce Marketing Associations Fresh Summit in Anaheim, California. Teach prospective clients about your manufacturing and production techniques right on the trade show floor as a high-energy video creates a center of attention for people to view while allowing sales personnel to engage them in conversation and tell them more about a company.
Absolute Exhibits corporate video promotion is aimed at setting your brand apart on the show floor. A prime example is bringing organic agriculture to the trade show floor by differentiating your methodology from todays mass production farming. One way to effectively use a corporate video is to present the information in short video clips. As people pass by the booth they will see at least one message. When they come by again, they will see another message. It's rare that anyone would watch an entire video in a noisy chaotic place, that's why this approach is so effective, according to Todd Koren, CEO of Absolute Exhibits, one of the largest exhibit builders on the PMA trade show floor. Video can impart a far greater amount of information than any other medium can in a single second. This flooding of information encourages a response before any static graphic message can be processed. A trade show environment is hectic and loud.
The Absolute Exhibits corporate video production team offers script writing, producing, directing, shooting, motion graphics and high-definition editing a complete service in-house. Video has a life after the trade show. Once used on the trade show floor, your corporate video can be used in a variety of ways to increase your SEO rankings, add to your Social Media offerings, and provide both investor presentations and in-house communications. For more information on this promotion PMA show exhibitors, call (714) 685-2845.
About Absolute Exhibits

Absolute Exhibits, established in 2000, rents and sells large custom exhibits at over 300 shows in the USA and in countries around the world. Absolute Exhibits is dedicated to providing distinctive marketing settings as well as pre-and-post show and event marketing and support services for our clients. At Absolute Exhibits every aspect of the exhibition project is handled using in-house resources and every question is answered in-house, as well. Absolute Exhibits is a true one-source exhibit house.