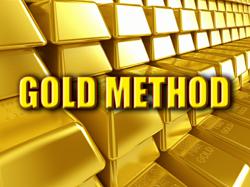 Charlotte, NC (PRWEB) March 27, 2013
Gold Method is a documentary film that tells the story of how global gold mining conglomerates and junior gold mining companies mine for gold around the world. The documentary film will also highlight the new process and technology invented by Mr. Audie Norr, called the Gold Method. While Mr. Audie Norr is traveling, and filming the documentary, he has hired Command Partners to execute and carry out all online marketing initiatives regarding his Kickstarter campaign for the documentary film.
Gold Method will take viewers through the history of gold and gold mining, from ancient Egypt to the present day of how people mine for gold, and what technologies they use. In addition to learning about taking gold to refinery, and making gold bars and coins, viewers will learn from experts how to invest in the glorified element in order to protect their retirement and financial future.
No one on Earth is using my innovative gold mining process and you can be the first to see it and be a part of it, says Producer and Inventor Mr. Audie Norr. All of the funds raised during our Kickstarter campaign will go toward completing the main stages of principal photography, editing the documentary film and post-production work.
Command Partners specializes in Kickstarter crowdfunding projects and has a proven track record of highly successful campaigns. Whether you are looking to launch a new product as an established brand, or are starting out with a new idea, Command Partners has the knowledge and experience to bring an idea to market. Command Partners' Kickstarter Marketing Services include, but are not limited to, carrying campaigns through their entire life cycles, public relations, social media management, PPC campaigns, strategic advisory services and more.
To learn more about Gold Method, visit http://www.audie300.com, Like them on Facebook and Follow them on Twitter.
About Producer and Inventor Mr. Audie Norr
After receiving a professional camera on his 10th birthday, Mr. Audie Norr developed a strong passion for photography and filmmaking. After polishing his skill, Mr. Audie Norr was accepted to the Cinematography Club as a teenager to continue his photography and film education. With the digital age in sight, in addition to the hard work he put into creating his own photography studio, Mr. Audie Norr walked himself right into a multitude of projects and missions as a graphic designer, computer animator and 3D Virtual Reality developer by using numerous different digital technologies and software platforms. Every step of the way, Mr. Audie Norr carries his desire and fortitude to explore, creating and discovering new horizons, which also makes him an inventor.
About Command Partners
Command Partners is a digital media agency that focuses on driving online visibility and lead generation including social media marketing, search engine optimization, public relations and strategic advisory services. Command Partners works with clients ranging from high-tech startups and e-commerce brands to Fortune 500 companies. The agency is located in Charlotte, North Carolina and works with clients around the globe.
For more information on Command Partners services, visit http://www.commandpartners.com, Like them on Facebook and Follow them on Twitter @CommandPartners.