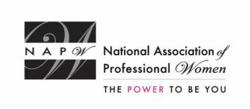 Garden City, NY (PRWEB) April 11, 2013
Members and guests of the NAPW Schaumburg, IL Local Chapter gathered on March 16th for a professional networking meeting at Fox and the Hound.
The group of professional women enjoyed an evening of networking and getting to know more about one another.
NAPW Chicago Local Chapter President Megan Wessels was on hand to share tips and advice with members and guests on how they could get the most out of NAPW membership.
Joan Van Allen, NAPW Schaumburg Chapter President, kicked off the networking event by warmly welcoming the attendees.
She invited members and guests to introduce themselves to the group of professional women.
Everyone gave a brief introduction to the group and talked about why they joined and the businesses they represented, said Joan.
Insurance companies, catering groups, private consulting firms, and beauty consultants were just a few of the businesses represented by our members and guests.
Megan Wessels, NAPW Chicago Chapter President, was in attendance and delivered an informative presentation to the group outlining tips on how members could get the most out of membership.
Megan focused on the importance of updating your NAPW profile to include your real time information and a picture, said the Shaumburg Chapter President.
She also mentioned that every time you attend a meeting, your name is published on the NAPW website as having been in attendance therefore increasing your Google presence.
The NAPW Chicago Chapter is also promoting its Fashion Show and Design Expo. Megan told members and guests that the Chapter is looking for vendors, models, sponsors, and fashion designers to participate in the event that is scheduled for May 9th in Chicago.
Proceeds for the fashion show will benefit Dress For Success.
Both Chapter Presidents reminded members that the 2013 NAPW National Networking Conference is on April 26th in New York City and will feature NAPW National Spokeswoman Starr Jones and keynote speakers Martha Stewart and Arianna Huffington.
Schaumburg Chapter President Joan Van Allen announced that the Chapter is actively seeking volunteers for two additional Chapter Board positions: Outreach Chairwoman and Career and Mentorship Chairwoman.
Interested members should see Joan to volunteer. Current Board members include: Joan Van Allen; President; Tina Guziec; Public Relations Chair; Pam Van Den Bussche ; Membership Chair; Mary Sullivan; Charity Chair; and Peggy Mikros; Event Planner.
Before the conclusion of the meeting, a door prize was selected by drawing a business card from those in attendance.
The lucky winner was Elena Carlson, who was a guest of member Sheri Goldstein. The prize was generously donated by Christi Osburn from the Hair Cuttery.
The next Schaumburg Chapter event is the Official Chapter Launch on Wednesday, April 17th at 5:30 to 7:30pm.
It will be hosted by Linda Johnston and the New York Life Insurance Company and will be held at 20 N Martingale Road, Suite 400, Schaumburg, IL. Refreshments will be served.
Members and guests present for the meeting included: Julianne Comstock, Carol Dougherty, Sheri Goldstein, Linda Johnston, Peggy Mikros, Joan Van Allen, Pam Van Den Bussche, Megan Wessels, Tina Guziec, Christi Osburn, and Elena Carlson.
The National Association of Professional Women (NAPW) is the largest and most recognized network of female professionals. NAPW provides a forum where women can interact, exchange ideas, educate, network, and empower. NAPW Local Chapters allow members to maximize their experience through meetings, networking opportunities, and professional events.
For additional information regarding the NAPW Schaumburg, IL Local Chapter and/or NAPW, please visit http://www.napw.com.
Follow NAPW on Facebook and Twitter.
###