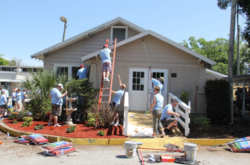 Fairhaven, MA (PRWEB) April 11, 2013
As part of their ongoing initiative to give back to the community, residential and commercial painting company, ProGroup Network recently partnered with Sherwin Williams to provide 266 gallons of paint towards the restoration and transformation of the Primrose Center, Inc. in Orlando, Florida. ProGroup Network is currently one of the main painting contractors for the large retailer, BJs Wholesale Club, which took on this project as one of the companys annual charitable Team Building activities.
On March 19, 2013, the Primrose Center welcomed more than 400 BJs Team Members to assist with transforming the Orlando facility. The center, which is dedicated to empowering people with disabilities to discover and explore new opportunities, offers day programs where adults can access job-training programs, therapeutic activities, daily living seminars and support services. The BJs team, with support from ProGroup Network and using paint donated for the project, was able to repaint the exterior as well as some rooms of the facility, landscape several therapeutic gardens, refresh flowerpots and patio areas, build new planter boxes and fences, as well as work alongside the Primrose clients on various craft projects.
We cant think of a better way to support one of our most important clients (BJs Wholesale Club) and at the same time helping to restore the amazing center that is the Primrose, states Dave Moura, Owner and President of ProGroup Network.
The Primrose Center, Inc. is a non-profit organization that has been fulfilling a community need for more than 55 years by offering a comprehensive array of services including vocational training, job placement, behavioral therapies and housing options for adults with developmental disabilities. Their team goes beyond just providing basic services to addressing real quality life issues. They have developed a culture where staff can explore the major barriers that inhibit people with disabilities from achieving greater independence and develop strategies for increasing regular opportunities for personal growth.
Giving back is in the DNA of BJs Wholesale Club, and each year when we gather our leaders for planning, we try to do something for the community in which we are having the conference, said Ted Bell, regional manager at BJs. Every single Team Member walked a little taller after finishing our projects at Primrose with the feeling that they had done something wonderful for others.
The Primrose Center was happy to partner with BJs Wholesale Club with support from ProGroup Network on this exciting project, which directly benefited the clients and families the center serves. Maintenance projects such as these can take up valuable time and resources needed to keep the center operating. Because of partnerships with local businesses such as BJs and donations from groups like ProGroup Network, the Primrose Center staff is able to focus on providing the services their clients need the most.
ProGroup Network, a residential and commercial painting company based in New England, has taken on several community service projects over the last year as part of their continued effort to give back to the community. In addition to donating paint for the Primrose Center project, projects such as a childrens coat and hat drive prior to the Nemo Blizzard and the donation of school and art supplies to a local elementary school were also very successful.
With more than two decades of service to the local community, ProGroup Network continues to give back to the community that has allowed them to become one of the most successful and respected painting companies in the New England region. To learn more about their community involvement or to request a quote for your next painting project whether residential or commercial painting they encourage you to join them online at http://www.ProGroupNetwork.com today.