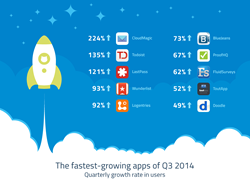 Dallas, Texas (PRWEB) November 04, 2014
ProofHQ, the global leader in online proofing with more than 2,300 clients representing the best brands and agencies in the world, has been named one of the fastest-growing cloud applications of Q3 2014 by cloud security software provider Skyhigh Networks. In fact, ProofHQ is the only app out of 10 recognized in Skyhigh Networks quarterly Cloud Adoption and Risk Report to have remained on the list in both Q2 and Q3 2014 — a clear indication that brands and marketing agencies worldwide increasingly are recognizing the need for more streamlined workflows for creative content.
To create the list, Skyhigh Networks tracked more than 8,000 cloud-delivered apps and more than 13 million users to calculate the growth rates of cloud services from Q2 to Q3 of this year. During that time, data shows that ProofHQ experienced a 67 percent quarter over quarter growth in the number of active users.
At a time when theres an incredible number of cloud-delivered apps on the market, we are honored to be included on this list again and recognized with such innovative companies, said Shawn Herring, Vice President of Marketing at ProofHQ.
We take great pride in delivering an easy and collaborative system for our customers, and, given the ever-increasing investment in cloud technology, we think this ranking is very positive indicator about our prospects in Q4 and beyond, continued Herring.
ProofHQ shares ranking on the list with such names as ToutApp, a sales communications platform and ProofHQ partner; email app CloudMagic; online survey service FluidSurveys; password storage tool LastPass; and others.
The average number of cloud services in use per company increased in Q3 from 738 to 831. Eighty percent of data uploaded to the cloud goes to less than 1 percent of all services, which represents just 11 cloud service providers.
About ProofHQ

ProofHQ is an online proofing tool used by brands and agencies worldwide. It streamlines the review and approval of content and creative assets so that marketing projects are completed faster and with less effort. ProofHQ replaces email and hard copy processes, giving review teams tools to collaboratively review creative content, and marketing project managers tools to track reviews in progress. ProofHQ can be used across all media including print, digital and audio/visual. For more information, please visit http://www.proofhq.com.