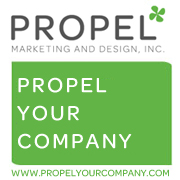 Boynton Beach, FL (PRWEB) September 20, 2012
Propel Marketing & Design, Inc., a South Florida based Marketing Agency, has announced their Fall 2012 Marketing Workshop Schedule.
Our vision is to provide local small to medium sized business owners with cost effective, valuable solutions to compete in todays ever increasing viral marketplace, commented Darcy Sullivan, President of Propel Marketing & Design. Whether its training, mentoring, or carrying out the work, we are here to help!
As the world of internet marketing continues to change, its imperative for small business owners and entrepreneurs to stay on top of the latest in Internet Marketing, Social Media and Search Engine Optimization. These workshops provide participants with the tools they need to compete in todays online marketplace.
Propel Marketing & Design will offer the following Interactive Marketing Workshops: