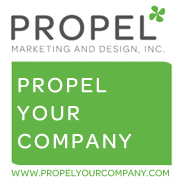 Lantana, Florida (PRWEB) January 30, 2013
Propel Marketing & Design, Inc., a South Florida based Internet Marketing Company, is thrilled to offer E-Commerce solutions for small businesses. As more and more companies are making their products available online, incorporating an E-Commerce strategy into a website can make a company more accessible to customers, as well as increase sales and revenue.
Propel understands that the complexity of E-Commerce can feel daunting to some people. Thats why we can break down the process and determine the best online strategy for each clients specific business and budget. explained Propel President Darcy Sullivan.
A pleasant user experience is critical to the success of a website and it all begins with the design phase, Sullivan continued. Our team understands what shoppers are looking for, the best practices for web and search engine optimization (SEO). Using these key factors, Propel creates stunning sites that draw customers in and set our clients apart from their competition.
Propel Marketing & Design, Inc. works on E-Commerce projects in a content management system (CMS). This allows clients to take ownership of the store once its set up.
The CMS makes it easy for clients to upload new products, modify text, and market their website without requiring additional developer hours. In addition, Propel provides training sessions with all E-Commerce websites, giving clients control to run their own store.
About Propel Marketing & Design, Inc.

Propel Marketing & Design, Inc. is a full-service internet marketing agency, located in Lantana, Florida, that specializes in SEO (Search Engine Optimization), social media, website design, email campaigns, search engine marketing, public relations, graphic design, and marketing workshops. Propel works with clients to create effective and unique marketing strategies to help raise their online profile and support their business objectives. For more information please visit http://www.propelyourcompany.com.
Contact Propel Marketing & Design, Inc.

219 East Ocean Avenue

Lantana, Florida 33462

(800) 943-2346

info(at)propelyourcompany(dot)com