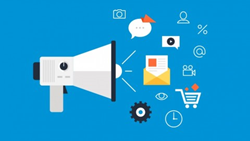 Boynton Beach, Florida (PRWEB) December 31, 2014
Propel Marketing & Design, Inc., a Boynton Beach based Marketing Agency, is pleased to announce the launch of their new workshop entitled Social Media Strategy Made Simple for Small Businesses, on Udemy.
This class is designed for small businesses and entrepreneurs interested in creating an easy to execute social media strategy for their organization.
Through the Propel Marketing & Design, Inc. and Udemy partnership, students will be able to experience the best of online learning.
During this workshop, Propel Marketing & Design, Inc. will highlight some of the core elements to creating a social media plan that truly works for all types of organizations. Students will be able to take this on demand course, at their own pace, and ask the instructor any questions they might have along the way.
Social media continues to be one of the most valuable marketing tools for small businesses, explained Darcy Sullivan of Propel Marketing & Design. Having an easy to execute social media plan is key for success.
More information about this course can be found at http://www.udemy.com/social-media-strategy-made-simple-for-small-businesses.
About Udemy

Udemy is the leading marketplace for online learning, offering people everywhere the opportunity to advance their careers, change professions, develop their personal passions or simply learn something new. With an ever-growing offering of 20,000+ courses, students can transform their lives by learning any subject they chooseat their own pace, on their own time, on any device. For companies, Udemy offers instant access to a comprehensive course library and easy-to-use course-creation platform. Founded in 2010, privately owned Udemy is funded by Norwest Venture Partners, Insight Venture Partners, Lightbank, MHS Capital, Learn Capital, and 500 Startups, among others. Udemy is headquartered in San Francisco.
About Propel Marketing & Design, Inc.

Propel Marketing & Design, Inc. is a full-service internet marketing agency, located in Boynton Beach, Florida, that specializes in SEO (Search Engine Optimization), social media, website design, email campaigns, search engine marketing, public relations, graphic design, and marketing workshops. Propel works with clients to create effective and unique marketing strategies to help raise their online profile and support their business objectives. For more information please visit http://www.propelyourcompany.com.
Contact:

Propel Marketing & Design, Inc.

(800)943-2346

533 E. Ocean Ave.

Suite #2

Boynton Beach, Florida 33435