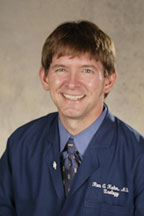 Little Rock, Arkansas (PRWEB) April 09, 2013
Dr. Ronald Kuhn, Arkansas Urology, recently completed his 100th robotic prostatectomy procedure utilizing the ProPep Nerve Monitoring System. The ProPep Nerve Monitoring System is the first, real-time nerve monitoring system specifically designed for use during robotic surgery. The System is a fast, accurate, and easy to use technology that aids surgeons in identifying otherwise invisible nerves during minimally invasive robotic prostate cancer surgery. The ProPep Nerve Monitoring System shows me the exact location of otherwise invisible nerves that are important for urinary control. Knowing exactly where they are helps me to better preserve them during robotic assisted prostate cancer surgery. according to Dr. Kuhn. It is a remarkable tool for me as a surgeon, but my patients are the true benefactors."
Dr. Kuhn will be presenting data on his preliminary experience with the ProPep Nerve Monitoring System at the American Urological Associations Annual International Meeting in San Diego, CA, May 4th 8th.
Dr. Kuhn is the most experienced robotic prostatectomy surgeon in Arkansas having performed over 2,000 procedures. He is a surgeon at Baptist Health Hospital in North Little Rock and is certified by the American Board of Urology. He is also a member of the American Medical Association, American Urological Association, Endourological Society, Arkansas Urologic Society, Pulaski County Medical Society.
About ProPep Surgical, LLC

Established in 2010, ProPep Surgical is a privately-held, Austin- based medical device company developing a system of products (ProPep Nerve Monitoring System) to aid robotic surgeons in identifying otherwise invisible nerves during minimally invasive robotic surgery. Real time identification of these nerves will allow the surgeons to make a more informed decision about which tissue to selectively preserve or remove during robotic surgery and as a result, potentially reduce the common side effects typically attributed to inadvertent nerve damage during these procedures.