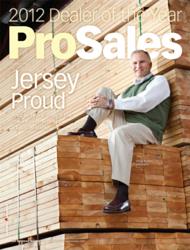 Washington, DC (PRWEB) January 25, 2012
PROSALES magazine revealed today that Kuiken Brothers Co. of Fair Lawn, N.J., is its newest PROSALES Dealer of the Year:
The PROSALES Dealer of the Year Award honors outstanding achievements in construction supply operations, management and innovations, as well as meritorious service to the dealers community and to the lumber and building material industry. Only one construction supply dealer is chosen per year. As winner, Kuiken Brothers is featured in the cover story in PROSALES January/February issue and on its website, ProSalesMagazine.com.
Kuiken Brothers enjoys respect across the nation not just for its tangible qualitiesparticularly its record of financial and operational excellencebut also for possessing in spades such intangible qualities as integrity and trustworthiness, said Craig Webb, editor of PROSALES magazine and author of the cover story. In my travels from coast to coast, I have yet to come across a company in which more people told me how much they respect Kuiken Brothers as a place that gives you a square deal, upholds its commitments, and strives constantly to do things the right way. As one fellow dealer put it, Theyre the gold standard of what you want a lumberyard to be.
Founded 100 years ago by Dutch immigrants who settled in northern New Jersey and still completely owned by family members, Kuiken (pronounced CUE-kin) Brothers is the biggest independent, full-service building supply dealer based in the Garden State, with nine facilities, 240 employees, and 2011 revenues that topped $ 100 million. Despite operating in an environment that has seen housing starts nationwide fall more than 75% from their peak in 2006, Kuiken Brothers has turned a profit every year (as it has done since at least World War II). It opened a new branch in Succasunna, N.J., last year, and in November 2010 it launched the private-label KB Classical Moulding line.
The company also has won renown for its service to the industry and the community. Company president Doug Kuiken is a former board chairman of the Lumbermens Merchandising Corporation (LMC) and a past director of the New Jersey Lumber Dealers Association. He also is chairman of the New Jersey Business and Industry Association and a board member for the River Road Improvement Corporation SID, a downtown revitalization group for Fair Lawn, N.J.
To read the complete story, visit ProSalesMagazine.com.
About Hanley Wood

Hanley Wood is a leading business-to-business media company focused on the residential and commercial construction and design industries. Its diverse portfolio includes magazines, websites, e-newsletters, exhibitions and conferences, custom marketing, and data services.
Hanley Wood is composed of four operating platforms: Business Media, which publishes more than 30 magazines, featuring ARCHITECTURAL LIGHTING, ARCHITECT, EcoHome, BUILDER, and REMODELING magazines, along with related websites, e-newsletters, and conferences; Exhibitions, which produces marquee events such as World of Concrete, bringing residential and commercial construction professionals face to face with manufacturers, suppliers, distributors, and service providers; Market Intelligence, which collects and aggregates proprietary data sets that capture hundreds of pieces of profile and material information about housing developments in more than 75 housing markets; and Marketing, which plans, creates, and executes strategic and integrated marketing solutions for its clients. Visit http://www.hanleywood.com.
###