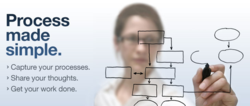 Downers Grove, IL (PRWEB) April 19, 2013
ProSoft Technology Group, a Silver Sponsor at the IBM IMPACT 2013 Global Conference, will present a call center solution for Financial Services and Retail based on process management and business rules at the conference.
ProSoft Technology Group Inc., (an Inc. 500 company established in 1995) an IBM Premier Business Partner, IBM Software Reseller and a premier information technology consulting firm, will be in booth S-2 at Impact. IBM Impact 2013 is the premier conference for Business and IT leadership to be held at the Venetian in LAS Vegas, NV from April 29 May 4 2013.
ProSoft Technology Group has 20 years of extensive experience working with fortune 1000 clients, providing deep expertise in Financial Service, Healthcare, Petro-Chemical and Retail Industries. The call center solution is a set of predefined assets, completely customizable that have been built based on experiences in these industries. Complex Business Processes like Order returns, Credit Card monetary and non-monetary transactions and refunds have been addressed in this solution. The solution is based on a SOA framework and built on technologies such as IBM BPM and IBM ODM.
"Organizations are faced with increasing customer demands, fierce competition, customer touch points that differentiate their services and high expectations for business growth, said Ashok Singh, Senior Vice President, IBM Practice at ProSoft. To address these challenges, smart companies look to dynamic business processes, pre-built process templates, rules and effective application infrastructures to drive innovation and reduce costs. Pre-built process assets from ProSoft enable companies to design and implement superior solutions utilizing IBMs innovative technologies and that drive faster time to market. Were pleased to share our experience and expertise during Impact 2013.
ProSoft is also going to showcase two additional service offerings and offer free templates to all conference attendees:
1.