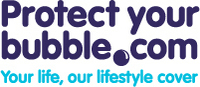 (PRWEB UK) 14 December 2012
Top features of the Nintendo Wii U

Nintendos latest generation gaming system is the Wii U, purpose; to bridge the gap between sofa and mobile handheld gaming. But does the gap need to be bridged? Protect Your Bubble, a specialist gadget insurance company, has compiled a list of the top features of the new system that will surely be on the top of just about every gamers list this coming Christmas season.
1. Model Range

The price differences in the Wii U consoles are because Nintendo has finally caught up with Microsoft and Sony to offer a few different versions depending on the gamers tastes. For the general, average player, the base white Wii U will have 8GB of storage and a single game pad. The Premium Pack, in sleek black, has 32GB of internal storage, game pad, NintendoLand game and 3 months of Nintendo Network Premium. For those who dream of stomping Koopa Troopas and rescuing princesses only to discover they are in another castle, there is the Wii U Zombie U Pack, featuring everything with the Premium Pack plus a second black controller and a copy of the ZombieU game.
2.Games

To accompany the release of the system, Nintendo has plenty of games to keep people glued to the console; Nintendo Land, New Super Mario Bros U, Pikmin 3, Wii Fit U, Wii U Panorama View, SiNG, Assassin's Creed III, to name a few. But dont go trashing the older Wii games, the Wii U will play the older Wii games, similar to how Xbox360 will play older games as well.
3. Spec

For the serious techie, the Wii U specs sound like a fine sports car. Approximately 1.8in high, 10.5in deep and 6.8in long and weighing 1.5kg, it is considerably smaller than many of the previous systems and consoles. A multi-core IBM proprietary processor and AMD Radeon-based GPU make for sharp, clear lines and fast scrolling. In addition to the standard storage, the Wii U supports SD memory and has a USB connector. It is internet ready an features four USB 2.0 connectors two in the front and two in the rear that support Wii LAN Adapters, perfect for adding peripherals.
4. Price

Now that the Wii U is in the U.K., sales have been impressive. Close to 40,000 units have already moved. An impressive feat since the new console runs a gambit of costs from