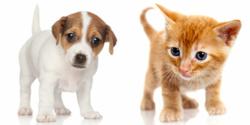 (PRWEB UK) 7 September 2012
Some people cant bear the thought of leaving their pooch behind when they head out on holiday. So it just as well they can now take them with them. But, according to Protect Your Bubble,

there are a few need to know things and must dos before booking that flight!
1) Make sure the destination and accommodation are pet-friendly. This is more than just the hotel. Pets Friendly Hotels has a list of pet friendly overnight lodging. Call ahead or check with a tourism agency to see what tours are pet friendly, where pets are not allowed and if there is someone who can watch your animal if required.

Make sure the airline is set up to take care of four-legged friends or winged family members. Each airline has a different policy regarding what animals may be transported and how they are transported.
2) Most countries allow properly vaccinated pets to travel with their owners. However, some countries do not. Dog Friendly has an extensive list of countries and incoming-pet rules.
3) In Europe, pets must have a passport. This is a record of the animals immunisations and parasite treatments. The length of time needed to get one of these passports varies and the paperwork has to be filled out by a veterinarian. If planning to visit the western hemisphere, pets will need a rabies vaccination as well. For complete details of exactly what is needed, contact the Department for Environmental Food and Rural Affairs.
4) When travelling it is important to make sure pets are easily identifiable with a collar or a tag containing owner contact information. When visiting new places pets may react differently than at home. If the worst should happen and a pet is lost, the collar will help reunite it and its owner. Implanting a microchip is also a very good idea. Collars can be pulled off or lost. A microchip is injected under the skin in specific areas and nearly all vets have a chip reader.
5) It may sound simple, but its easy to forget a leash and other restraints. If travelling by car, it would be a good idea to consider getting a pet seat belt or travelling kennel which can be secured. Some destinations may require these restraints.
When considering holiday with a pet, regardless of the destination, pet insurance cover is available from Protect your bubble with overseas cover from 30 days to 12 months depending on the level of cover chosen. If something happens whilst away from home pet insurance can help with vet and medical bills. Visit Protect your bubble for further information on pet insurance.
Department for Environmental Food and Rural Affairs: defra.gov.uk
About Protect your bubble UK

Backed by a Fortune 500 company, Protect your bubble is the UKs largest specialist gadget insurer that also offers a wide range of insurance products, pet insurance, bicycle insurance, travel insurance an car hire excess insurance; all at exceptional value prices.

Related Links:

Pet Insurance – uk.protectyourbubble.com/pet-insurance/

Cat Insurance – uk.protectyourbubble.com/cat-insurance.html

Dog Insurance – uk.protectyourbubble.com/dog-insurance.html
Find Us On:

Facebook: facebook.com/ProtectYourBubble

Twitter: twitter.com/protectyrbubble

YouTube: youtube.com/user/protectyourbubble