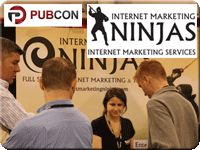 AUSTIN, TX (PRWEB) January 16, 2013
Pubcon, the premier social media and optimization conference, has announced that Internet Marketing Ninjas has gone Double Platinum during 2013, as an official Platinum Sponsor for both Pubcon New Orleans 2013, which takes place April 22 25 at the New Orleans Convention Center, and for Pubcon Las Vegas 2013 on October 21 25, 2013 at the Las Vegas Convention Center, two of the years largest and most anticipated social media and optimization events.
Were delighted to have Internet Marketing Ninjas as a major Platinum Sponsor for Pubcon New Orleans 2013 and Pubcon Las Vegas 2013, said Pubcon founder and chief executive Brett Tabke. Company founder Jim Boykin has been a long-time supporter of Pubcon, including a Platinum sponsorship last year, and with the continued growth the firm has seen were happy to have Internet Marketing Ninjas as one of our major conference sponsors, Tabke added.
Ive been a member of WebmasterWorld since 2002 and Ive been attending the Pubcon conferences since 2003, Internet Marketing Ninjas chief executive Jim Boykin said. Last year Boykins firm purchased WebmasterWorld.
I recall Pubcon 2005 in New Orleans it was one of my favorite conferences of all time, so Im excited Bretts brought Pubcon back to New Orleans. Its going to be great, Boykin said.
Out of all the conferences I attend each year, Pubcon has always been my favorite conference, and one that I made sure never to miss. I always end up leaving Pubcon with tons of new ideas and connections that help me to grow my own knowledge, my services, and my company, Boykin added.
Internet Marketing Ninjas is a full service Internet marketing firm with a stellar reputation dating back to 1999 when it was founded as We Build Pages, and as a Platinum Sponsor it will also be exhibiting during Pubcon New Orleans 2013.
The Clifton Park, New York-based firm offers link-building, social media marketing, content creation, SEO analysis, widget creation, Web design, SEO speaking and consulting, along with local search marketing and reputation management.
During Pubcon New Orleans 2013 representatives from Internet Marketing Ninjas will be available in the busy exhibit hall to discuss the firms always-popular services.
I feel extremely lucky and very honored to be able to help support the Pubcon conferences. Im really looking forward to taking a bunch of my ninjas to Pubcon for training again this year. Exposing my employees to the knowledge base of the Pubcon presenters is one of the best investments Ive ever made, Boykin said.
Internet Marketing Ninjas is thrilled again to be a Pubcon supporter by being a Platinum Sponsor for Pubcon New Orleans, Boykin said.
Dont forget to swing by our Pubcon New Orleans 2013 booth to pick up some of our ninja gear and well show you how to look at the world through rainbow colored glasses, Boykin added.
Were delighted to have Internet Marketing Ninjas as a Platinum Sponsor and exhibitor at Pubcon New Orleans 2013 and Pubcon Las Vegas 2013, and look forward to joining the firm for a great conference in The Big Easy this April 22 25, Tabke said.
Learn more and register at http://www.pubcon.com
About Pubcon
Pubcon is a multi-track educational conference hosted by Pubcon Inc. Pubcon, supported by the industrys leading businesses, speakers, exhibitors, and sponsors involved in social media, Internet marketing, search engines, and online advertising, offers an in-depth look at the future of technology presented by the worlds top speakers in provocative cutting-edge sessions.
For more information about the conference, contact Brett Tabke at 512-231-8107 or brett at pubcon (dot) com
For more details about sponsorship and exhibition opportunities, contact Strategic Marketing Director Joseph Morin at 512-231-8107 ext 104 or joe at pubcon (dot) com
About Internet Marketing Ninjas
Internet Marketing Ninjas (formerly We Build Pages) is a full service Internet marketing company operating out of upstate NY since 1999. Founder and CEO Jim Boykin has built a team of specially trained ninjas with expertise in link-building, SEO analysis, social media, content development and local marketing. Internet Marketing Ninjas is a results-driven company focused on search engine visibility, engagement and driving relevant traffic.
More information about Internet Marketing Ninjas is available on its website at http://www.internetmarketingninjas.com