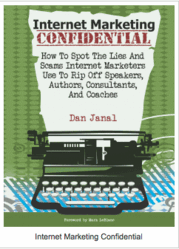 Minneapolis, MN (PRWEB) May 02, 2013
Unscrupulous Internet marketers have stolen fortunes from authors, speakers, coaches and consultants. Internet Marketing Confidential, a new tell-all book by Internet Marketing expert Dan Janal, shows the lies, half-truths, misconceptions and downright scams that could plague any person who wants to use the Internet to start a business or grow a business.
There are a lot of con artists that have stolen – yes, stolen – hundreds, thousands and even hundreds of thousands of dollars from authors, coaches, consultants, hopeful entrepreneurs. They thought they were galloping toward the next Gold Rush and got run over instead, said Janal, who delivers keynote speeches and training sessions on Internet Market and Publicity to companies and associations.
Internet Marketing Confidential" is available on Amazon in hard copy for $ 24.95 and eBook formats for $ 19.95. Amazon Prime members can download the consumer advocacy book for free. Released today, the book is already in the top 100 books on Amazon for business ethics.
This consumer protection book is written in the humorous, irreverent, easy-to-understand style that readers have come to expect from Janal, who wrote one of the first books ever published about Internet Marketing in 1993.
This book will open your eyes, set the record straight and give you a new lens in which to make better decisions about navigating your Internet game plan, Mark LeBlanc, author of Growing Your Business and a former president of the National Speakers Association wrote in the foreword.
I wish I had read your book before I got taken in by a lot of Internet marketers who masqueraded as wolves dressed in sheeps clothing. Dan Janal has done a superb job of covering all the issues that everyone needs to know and understand about Internet marketing, said Lydia Ramsey, author of Manners That Sell.
Dan is the real deal calling out the online gurus. Before you spend one more red cent on a program, course, webinar or membership site, read Internet Marketing Confidential. It will save you money and your sanity and show you how to work on your business so it has staying power and solvency, said Nancy Fox, author of Network Like a Fox.
Internet Marketing Confidential is a revealing, no-holds-barred look at online marketing from the inside out. Author and successful marketer, Dan Janal, takes you inside a secret world full of hidden agendas, tricks and traps designed to empty your wallet faster than you could ever build an online business, said Linda M. Lopeke, Chairman & CEO, Lexicorp Services Inc.
"Simply put, Internet Marketing Confidential has blown the doors off ALL the dirty little secrets that the scammers don't want you to know about, said David Newman, author of "Do It! Marketing: 77 Instant Action Ideas to Boost Sales, Maximize Profits, and Crush Your Competition.
For information, go to http://www.InternetMarketingConfidential.com
About Dan Janal
Dan Janal is considered one of the Founding Fathers of Internet Marketing because he wrote one of the first books in the field. USA Today called Dan Janal a true cyberspace marketing pioneer. The Los Angeles Times called Dan an Internet marketing expert.
Dan has written six books for John Wiley & Sons and those books have been translated into six languages. He has won numerous reporting awards, including a prestigious Hearst Award, the Pulitzer Prize of college students while at Northwestern University. He earned bachelors and masters degrees from the famed Medill School of Journalism.
Currently, Dan is president and founder of PRLEADS PLUS.com, a public relations service that helps authors, speakers, coaches, consultants and small businesses get more visibility and credibility so they can sell more products with greater ease. He offers complete done-for-you services as well as providing discounts on publicity tools from major vendors like mailing lists and press release distribution.
He has created 8 businesses that have generated six-figure sales using 8 different business models for over two decades in every kind of economic climate.