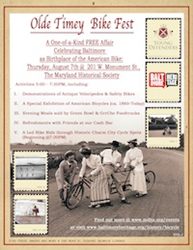 Baltimore, MD (PRWEB) July 27, 2014
The Maryland Historical Society, in partnership with Baltimore Heritage, is launching a new campaign to win national recognition for Baltimore's unique place in the history of American bicycling. The Society seeks to raise awareness of Baltimores prestigious cycling history through a special-one day exhibition, American Wheels to the Front: The Involution of American Bicycles (1868-today), as well as celebrate our cycling past and present at the Old Timey Bike Fest and happy hour on Thursday August 7, 2014. From August 6-August 9, 2014 it will also play host to the International Cycling History Conference at the Societys Mount Vernon headquarters (201 W. Monument Street) in downtown Baltimore.
"Unlike many historical subjects, bicycles continue to play an important and growing role in Maryland and America today, says Burt Kummerow, President and CEO of the Maryland Historical Society, We invite you to participate in the fascinating past, present and future of bicycles here at the Maryland Historical Society."
Details of the Thursday August 7th events are as follows:


Visitors can enjoy free admission to the Maryland Historical Society (MdHS) from 10:00 AM – 7:30 PM to experience a special one-day exhibition: American Wheels to the Front: The Involution of American Bicycles (1868-today)
Free Young Defenders First Thursday Happy Hour in the Courtyard at MdHS from 5:00 – 7:30 PM
On hand will be local food trucks, including The Green Bowl and GrrChe, and local beer and wine at a cash bar: $ 3/beer; $ 5/wine
Demonstrations of historic bicycles by modern high-wheel men starting at 6:00 PM
A celebratory bike ride led by Baltimore Heritage departing MdHS at 7:30 PM
Did You Know?
Baltimore is known as a city of firsts, but few know that Charm City gave birth to the first American bicycle!
Invented in Germany in 1816, the velocipede was an early ancestor of the modern "safety" bicycle. The velocipede caught on quickly among reckless urban "dandies" in France and England. Growing interest in the United States prompted a writer in the Baltimore Morning Chronicle to remark acidly, Every species of transatlantic nonsense, it would seem, is capable of exciting curiosity, no matter how ridiculous." Where some only saw a chance for ridicule, Baltimore piano-maker James Stewart saw an opportunity. In late 1818, Stewart crafted the first velocipede manufactured in the United States and, in February 1819, put it on display downtown at the Concert Hall (built around 1813 on South Charles Street).
A polarizing debate followed. The Federal Republican and Baltimore Telegraph sneered: A curious two-wheeled vehicle called the Velocipede has been invented, which is propelled by Jack-asses instead of horses. 80 year old Charles Wilson Peale stopped by to see the velocipede on his way back to Philadelphia after painting portraits of President James Monroe, Henry Clay and black freeman Yarrow Mamout. The velocipede quickly won Peale's heart and when he arrived home in Philadelphia he commissioned a local blacksmith to make him one of his own. Stewarts invention led to the Dandy-operated velocipedes that terrorized many a society lady throughout the late 19th century as well as the road bikes citizens of today use to get to work or just enjoy the fresh air.
About the International Cycling History Conference:
Taking place from August 6-9, 2014 at the Maryland Historical Society is the 25th Annual International Cycling History Conference. The Conference has been notable for bringing together academics, curators, collectors, and enthusiasts to debate and present new knowledge on all aspects of cycling history. The Conference has a notable track record in bringing to light critical, interesting, and previously unappreciated stories from the history of cycling. Examples include such diverse subjects as exposing the fraudulent 'Leonardo' claims to invention of the bicycle, to the role of Col. Albert A. Pope in formation of the bicycle monopoly in 1899, to discussion of the role of cycling in womens liberation.
For more information on the International Cycling History conference, visit: http://www.cycling-history.org/.
For a complete list of events at the Maryland Historical Society, visit http://www.mdhs.org/events.
About The Maryland Historical Society
Founded in 1844, The Maryland Historical Society Museum and Library occupies an entire city block in the Mount Vernon district of Baltimore. The society's mission is to "collect, preserve, and interpret the objects and materials that reflect Maryland's diverse cultural heritage." The Society is home to the original manuscript of the Star-Spangled Banner and publishes a quarterly titled "Maryland Historical Magazine." Visit http://www.mdhs.org.
For more details, contact Marketing Director Laura Rodini at lrodini(at)mdhs(dot)org or by phone: 410-685-3750 ext. 322.