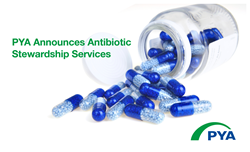 Knoxville, TN (PRWEB)
July 14, 2015
Pershing Yoakley & Associates (PYA), a national management consulting and accounting firm, has added the esteemed Dr. James Michael Keegan and his consulting team to its organization and now offers comprehensive antibiotic stewardship program (ASP) solutions to healthcare providers across the U.S. This dynamic addition further expands PYAs role in providing value-added professional and clinical services for clients. The implementation of fully integrated ASPs has the effect of optimizing patient treatment regimens, improving patient safety and care, reducing costs, and positively affecting broader population health outcomes.
Dr. Keegans clinical healthcare consulting team has contributed to the development and refinement of single facility and system-wide community-based execution protocols of antibiotic stewardship initiatives for the last 20 years. Keegan, an infectious disease specialist, has been a driving force in antibiotic stewardship. Currently, this team is finalizing arrangements to begin the nations first statewide antibiotic stewardship initiative to improve the use of antibiotics.
PYA CEO Ed Pershing said, At PYA, we strive to provide innovative and cutting-edge solutions for our clients. Dr. James Keegan and his team have been at the forefront of antibiotic stewardship, and their capabilities and commitment to finding solutions for a growing crisis are invaluable additions to our Firm. His team has a proven record of success in employing evidence-based medicine and best-practices solutions to optimize decision-making, change outcomes, and begin to reverse the incidence of drug-resistant bacteria.
According to Dr. Keegan, The Centers for Disease Control and Prevention estimates that more than two-million Americans are infected with antibiotic-resistant organisms, resulting in approximately 23,000 deaths annually. The CDC further indicates that between 20% and 50% of all antibiotics prescribed in U.S. acute care hospitals are either unnecessary or inappropriate. These statistics are frightening, but they emphasize the dire importance of coordinated practices to promote the responsible use of antibiotic programs in healthcare facilities.
In September 2014, the Presidents Council of Advisors on Science and Technology (PCAST) recommended a federal action that would make the inclusion of an antibiotic stewardship program a requirement to participate in Medicare by December 2017. In the executive summary presented to the President, PCAST states, Over the last decade, however, this brewing problem (antibiotic resistance) has become a crisis, and this situation threatens patient care, economic growth, public health, agriculture, economic security, and national security.
PYA Consulting Principal David McMillan offers this perspective on the antibiotic issue: In a healthcare reimbursement environment increasingly defined by the need for enhanced quality and more efficiency, antibiotic stewardship can no longer be viewed as an issue to be solely owned and solved by the pharmaceutical industry. Our clients are turning to us for population health solutions. In our experience, providers across the healthcare continuum mid-level providers, physicians, hospitals, long-term care facilities, clinically integrated networks, accountable care organizations, population health managers, care coordinators, and others now find themselves on the front lines of the battle to change the collective perspective surrounding the overuse of antibiotics.
Together with Dr. Keegan and his team, PYA combines a broad diversity of experience and a national reputation and scale in the healthcare industry to afford further advances in the patient experience while at the same time lowering costs. We are beyond pleased to unite with PYA, said Keegan. Our dedication to patient safety and quality of care finds its match at PYA. We expect great advances in antibiotic stewardship to result from this union.
About PYA
PYA is ranked by Modern Healthcare as the nations 12th largest privately held healthcare consulting firm, serving health systems, hospitals, physicians, physician groups and many other healthcare providers for over 30 years. PYA offers unique guidance to healthcare providers facing complex issues. PYA offers a comprehensive array of advisory services to the healthcare industry including performance improvement, physician alignment, coding, compliance, strategic planning, mergers & acquisitions, and valuation services. PYA proudly serves clients in 50 states from offices in Atlanta, Kansas City, Knoxville, Nashville, and Tampa Bay.