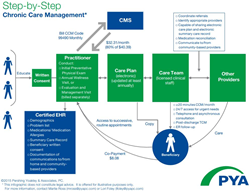 Knoxville, TN (PRWEB) January 30, 2015
Starting this month, physicians can bill on a monthly basis for providing chronic care management (CCM) services to Medicare beneficiaries with two or more chronic conditions.
As part of its ongoing effort to offer helpful resources providers can use in meeting Medicares requirements for providing and billing for CCM, PYA has developed a one-page infographic, Step-By-Step Chronic Care Management, which provides a summary of those requirements. While a provider looking to develop a CCM program still needs to master the detailed requirements, the new infographic can serve as a quick reference guide or a staff training tool.
This easy-to-follow infographic was designed to complement a white paper PYA recently released, Providing and Billing Medicare for Chronic Care Management 2015 Medicare Physician Fee Schedule Final Rule, which details the requirements for this new service.
PYA Principal Martie Ross said, We hope youll find this infographic to be another helpful resource to accompany the white paper and our sample CCM consent form, which was another tool we created after receiving numerous requests from providers seeking this type of document.
In addition, PYA also recently hosted a four-part educational series regarding new Medicare physician value-based payments, in which it addressed providing and billing for CCM. The series, white paper, consent form, and infographic all may be accessed from PYAs website.
PYA assists organizations in developing effective and efficient chronic care management programs by transitioning complicated rules and regulations into practical, straightforward strategies.
—
About PYA-
For over three decades, Pershing Yoakley & Associates (PYA) has provided timely insight, strategic support, and exceptional professional service, helping clients thrive in the midst of rapid change. PYA is ranked by Modern Healthcare as the nations twelfth largest privately held healthcare management consulting firm. For more information, visit http://www.pyapc.com/.